New York
Yuvo Health Raises $20.2M To Bring Technology To Community Health Centers – AlleyWatch
Federally Qualified Health Centers (FQHCs) are essential to providing primary care. They reduce barriers to healthcare for millions of Americans living in underserved communities by providing access regardless of cost, coverage, language or proximity. These community health centers are federally administered, eligible for Medicare and Medicaid reimbursement, and promoted by the Affordable Care Act. Yubo Health provides the technology and infrastructure to manage the administrative and managed care functions of these FQHCs. There is a growing trend towards value-based care, and with this platform, community health centers are able to reduce the cost of care by processing contracts with payers to provide preventative rather than reactive care. You can adopt this new model. This ultimately leads to improved patient outcomes, improved quality of care and optimized spending. FQHC serves more than 30 million people a year, or just under 10% of the US population.
alley watch We spoke with the CEO and co-founder of Yuvo Health Cesar Herrera To learn more about the business, the company's strategic plans, the latest round of funding totaling $27.5 million, and more…
Who are the investors and how much did you raise?
Raised an oversubscribed $20.2 million Series A round.guided by musty venturesWith the participation of previous investors, including alleycorp, AV8 Venturesand New York Venturesand including new investors HLM Venture Partners, Route 66 Ventures, VamosVenturesand Social Innovation Fund.
What products or services does Yuvo Health offer?
Yuvo Health partners with health centers to leverage new payment systems, scalable infrastructure and partnerships to provide meaningful seats at the table within the value-based care (VBC) ecosystem. In doing so, health centers gain the freedom and incentive to provide compassionate care to the entire community.
What inspired you to start Yuvo Health?
Launched in January 2021, Yuvo Health shares first-hand experience of the power of quality care and a shared goal of providing equitable, quality care to underserved communities. Founded in New York City by a full BIPOC team with The entire Yuvo Health team is now on a mission to enable all Community Health Centers (CHCs) to provide compassionate care to the entire community.
How is YuboHealth different?
Yuvo Health is specifically tailored to Federally Qualified Health Centers (FQHC) and their unique needs. And unlike many other "value-based care delivery" solutions out there, Yuvo Health takes its unique model significantly further by actually taking on all the downside risks of its FQHC partners. increase.
What markets does Yuvo Health target and how big is it?
Yuvo Health supports CHCs and FQHCs that provide primary care to underserved communities in the United States. Her 1,400 FQHCs nationwide serve more than 30 million patients annually, representing more than $30 billion in revenue. That said, the policy report shows that FQHC has an opportunity to serve her additional 20 million people who are still without primary care nationwide.
What is your business model?
Yuvo Health acts as an FQHC risk taker. If we partner with his FQHC, we agree to bear the downside risk of FQHC. We then contract directly with health insurers in every line of business (Medicaid, Medicare, commercial) and enter into various risk arrangements. Developing this additional revenue stream not only drives our own growth, but also establishes financial growth and stability for our FQHC partners.
How are you preparing for a potential economic slowdown?
Health care, especially Medicaid and Medicare, is counter-cyclical for the economy. This usually means more Medicaid subscribers, for example, and more financial pressure on states to control costs. This creates a greater opportunity for FQHC partners to join this ecosystem and demonstrate their value.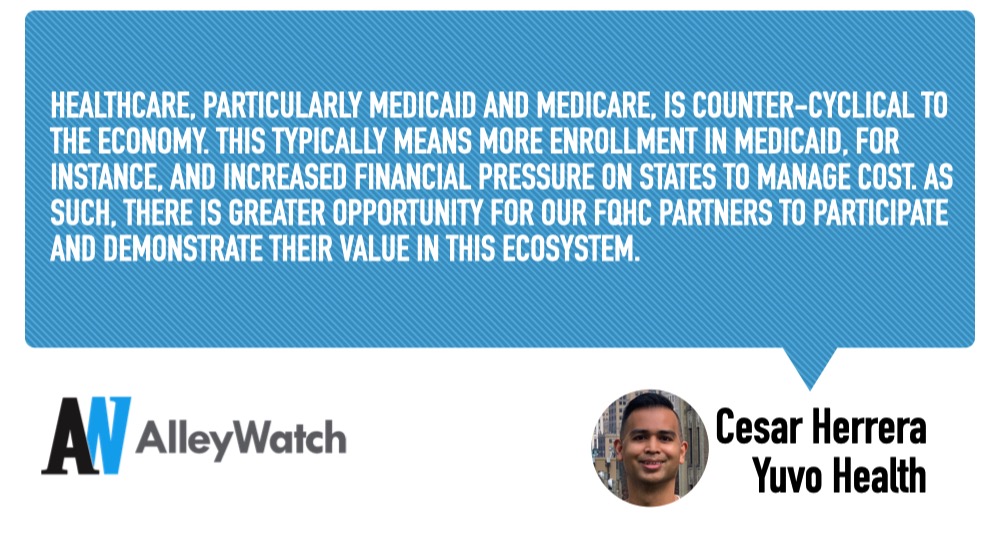 What was the fundraising process like?
The fundraising process definitely took longer than last time. The seed round took about a month to close, while Series A took about five months. FOMO wasn't a big factor for the investors we spoke to, so they spent extra time doing more thorough research. It was indeed a double-edged sword. The longer period allowed us to spend more time away from our day-to-day operations. But due diligence also meant that investors needed time to ask the right questions and truly understand the business. Additionally, more time has been spent scrutinizing investors and understanding the added value they can provide. As a result, we are more confident in the value shown on our cap table, which we are very happy about.
What was the biggest challenge you faced while fundraising?
Frankly, we are solving an incredibly complex problem (value-based care) in an often forgotten segment (FQHC) of a complex and regulated market (healthcare). Investors are unlikely to be able to meaningfully compare our companies. So we're not the 'Uber' or 'Airbnb' of the healthcare industry. On top of that, we don't have a predictable SaaS ARR revenue model, which made it difficult for investors to tackle.
What factors about your business made investors write checks?
Based on investor feedback, the most compelling combination of factors was:
Our hands-on, actionable solutions
undeniable market needs. FQHC needs access to certain meaningful revenue streams (VBC) without Yuvo Health.
our talented team. We have an unparalleled team with decades of first-hand experience in this field.
We have a deep connection with our mission.

Many of us have first-hand, lived experience being FQHC patients ourselves, and many others have experience serving FQHC and their patients. This is more than just a business for us, it is a very personal mission to support FQHC and their patients.
What milestones do you plan to achieve in the next six months?
With this funding, we will focus on building technology and population health infrastructure to support the transition to global depopulation.
What advice would you give to a New York company that doesn't have anything new? Injecting capital into a bank?
If you're trying to raise money or sell to customers in this marketplace, make sure to show your audience that your product is a "need", not a "nice to have". Also, remember that venture capital is not the only way to fund growth and development. So get creative (e.g. venture bonds, lines of credit, related government programs, etc.).
Where do you see the company going in the short term?
The company will leverage this investment to expand its operations out of the New York market and into Ohio (and beyond) as it transitions to accepting full-risk arrangements on behalf of its FQHC and CHC partners.
With so many ways to commute in the city, how do you usually commute to work each day?
I am fortunate that our office is only a few blocks from my apartment. And given that I prefer the ground, I can walk, ride the M23 bus across town, and trust my city wherever I go, rain or shine, or bitter cold. You will see people relying on their bikes to get to work.
---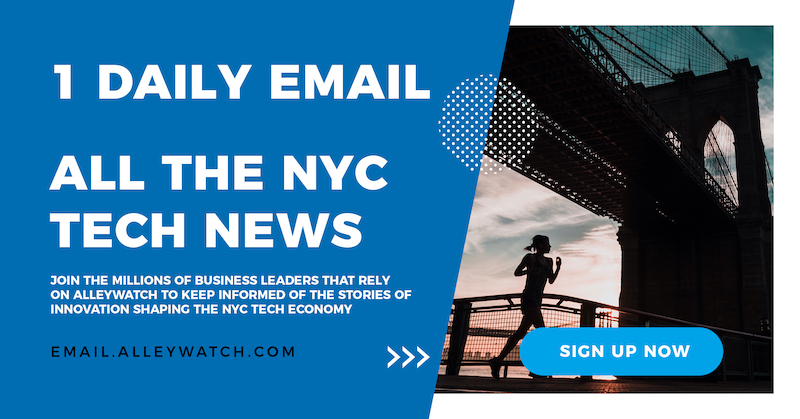 You're just seconds away from joining Tech!'s hottest list.
---
https://www.alleywatch.com/2023/06/yuvo-health-community-health-center-value-based-care-management-managed-care-payment-infrastructure-platform-cesar-herrera/ Yuvo Health Raises $20.2M To Bring Technology To Community Health Centers – AlleyWatch