New York
Whop Raises Another $17M for its Digital Marketplace for Digital Entrepreneurs and Products – AlleyWatch
No one can provide the exact number of software programs in existence today but it's estimated that it has surpassed hundreds of millions.  With various application launching each day and over 25M software engineers, the number of programs in use continues to expand exponentially.  But with all this innovation, where do you go to buy software and digital creations?  Whop is an online marketplace focused specifically on digital products that enables entrepreneurs to build and distribute their creations in one central location. The creator economy is the new digital realm but until now has primarily focused on selling simple videos and images; Whop is providing a destination for an expanding selection of high-utility products and information such as software, Discord access, apps, ebooks, courses, and TradingView access.  Existing solutions are quite disparate and typically focus on niches (e.g. marketplaces for WordPress plugins or themes).  The platform provides payment integration and has processed over $110M worth of transactions since launch. Onboarding takes less than 10 minutes and sellers on the platform are given access to a robust suite that provides reporting and analytics.
AlleyWatch caught up with Whop Cofounder and CEO Steven Schwartz to learn more about the business, the company's strategic plans, latest round of funding, which brings the company's total funding to $18M, and much, much more…
Who were your investors and how much did you raise?
Whop raised our $17M Series A from Insight Partners, Zinal Growth, Peter Thiel, Justin Mateen, Justin Kan, The Chainsmokers, Cory Levy, Vivek Ranadive, David Blitzer, Josh Richards, Griffin Johnson (Animal Capital), James Harden, Kevin O'Leary, and Josh Browder.
Tell us about the product or service that Whop offers.
Whop powers the next-generation internet economy, helping entrepreneurial developers market and sell the things they've built – software, communities, information, etc – all in one place. Whop's mission is to centralize all of the digital products on the internet, empowering people to safely sell, buy, and discover their next favorite internet-native product.
What inspired the start of Whop?
My cofounders and I grew up building and selling software online – we met in a Facebook group dedicated to doing just that – and we found that the experience overall of actually bringing our products to market was far from ideal. The Wild West days were full of scams, broken systems, bad infrastructure, and very little support.
We built Whop as a response to that experience, and to the experience of COVID, where everyone was online, sometimes in career transitions, looking to sell the things they'd made in a safe and sane environment.
How is Whop different?
Whop is different than other products in the "creator economy" because the products on Whop are of high utility. They aren't just photos or videos. We are positioned as the gathering point of the new internet economy, where individuals have ideas and passions, and knowledge to share and, rather than putting it out into the void for free, or having to keep all the plates spinning or turning it into a business themselves, people now have a palace where they can go.
At its core, Whop empowers sellers and delivers value to buyers. Here's what the two main aspects of its offerings entail:
Empowering Sellers: Whop provides a seamless experience for sellers to list their products or services and start getting paid immediately. This service is especially beneficial for individuals or businesses targeting a specific niche. Whop offers a powerful dashboard with functionalities such as a robust global payment processing system, built-in promotion tools, customer relationship management features, data and analytics for business insights, and a menu format offering boilerplate products and services.
Delivering Value to Buyers: For buyers, Whop serves as a vast discovery engine and portal to all internet experiences. It connects buyers with unique products and allows them to compare options and make purchases with ease and confidence. Key features for buyers include a recommendation algorithm akin to TikTok, a StumbleUpon-like visualization for discovering new products, and a centralized portal for managing subscriptions and products.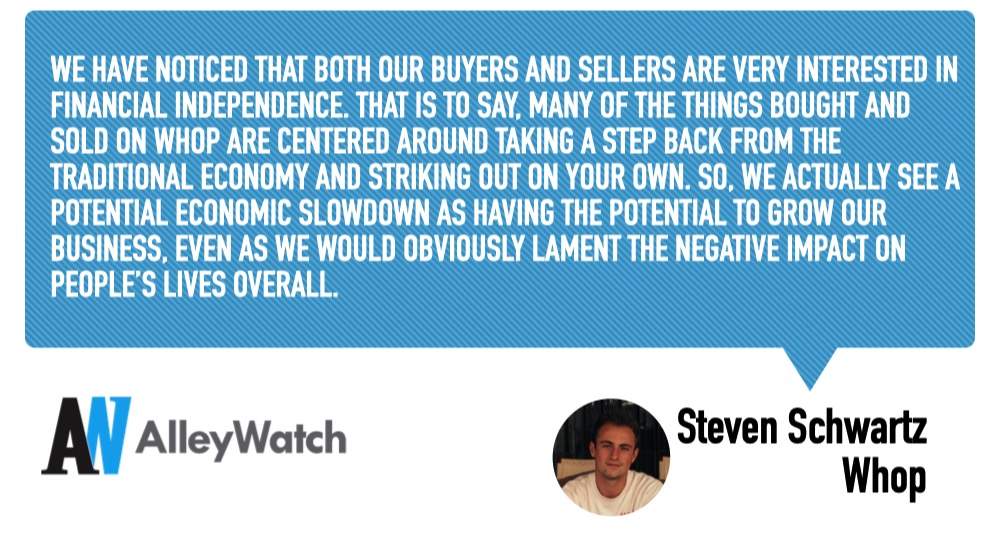 What market does Whop target and how big is it?
What's exciting about the new internet economy is we have no idea how big it's going to grow to be. It's a whole new category of entrepreneurs and products where the sky is the limit on how expansive the market will be.
What we do know is that it's north of $100M, because that's how much volume has flowed through our system, including more than $11M in the last month alone.
That's pretty significant if it just stays that size, but there's no reason to think it won't continue to grow.
What's your business model?
We charge a 3% transaction fee on purchases through our regular portal, and take a 30% fee for sales that we generate on the platform through our discovery tools and product highlight campaigns.
How are you preparing for a potential economic slowdown?
We have noticed that both our buyers and sellers are very interested in financial independence. That is to say, many of the things bought and sold on Whop are centered around taking a step back from the traditional economy and striking out on your own. So, we actually see a potential economic slowdown as having the potential to grow our business, even as we would obviously lament the negative impact on people's lives overall.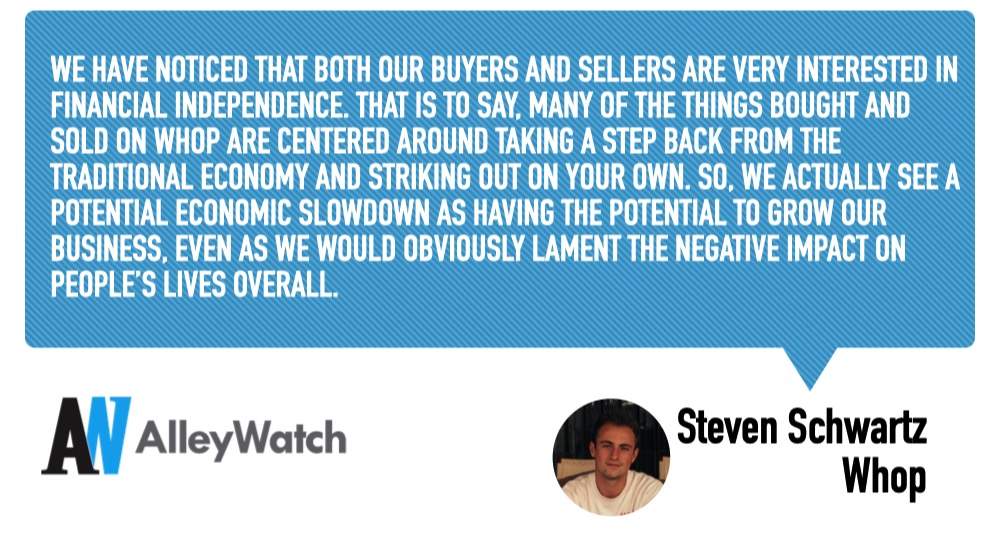 What was the funding process like?
Funding process was a forcing function for us to get clarity on what we are building, and for us to get incredibly clear on our growth strategy. When you have something that solves a real problem, I think that fundraising comes naturally.
What are the biggest challenges that you faced while raising capital?
Explaining in clear English what we do to people who aren't exactly our target customers. This took a lot of practice but was ultimately very helpful for us.
What factors about your business led your investors to write the check?
We have a broad product that isn't your basic SaaS. It is a real ecosystem where there are incredible network effects across the board, and I think that our investors saw that.
What are the milestones you plan to achieve in the next six months?
We hope to hit 10,000 sellers soon, and be processing over $15M a month. Our team is expected to grow considerably.
What advice can you offer companies in New York that do not have a fresh injection of capital in the bank?
Don't worry about capital, you rarely need capital to get started. Focus on being a user of your own product and solving a problem out of need, rather than one that you think "might be real".
Where do you see the company going now over the near term?
We feel like we are building several products right now that are going to take us to a whole entire new level soon.
What's your favorite summer destination in and around the city?
I love Central Park, spikeball is the best 🙂
---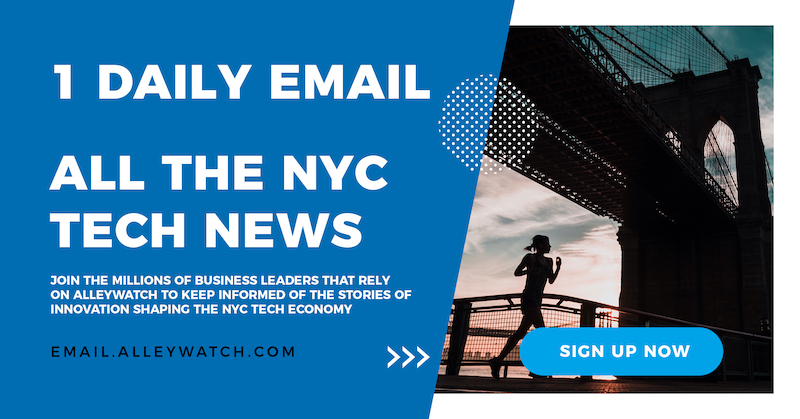 You are seconds away from signing up for the hottest list in Tech!
---
https://www.alleywatch.com/2023/07/whop-online-marketplace-digital-products-software-information-communities-steven-schwartz/ Whop Raises Another $17M for its Digital Marketplace for Digital Entrepreneurs and Products – AlleyWatch