New York
Voltpost Raises $3.6M to Turn Existing Lampposts into Electric Vehicle Charging Stations – AlleyWatch
Sales of electric vehicles have climbed by 40% on average since 2016 in the US.  In order to meet this burgeoning demand, McKinsey estimates that there'll need to be 1.2M public charging stations and another 28M private chargers by 2030 to support the shift away from combustion engines and meet the federal government's target for half of all new vehicles to be electric.  The biggest hesitation for potential buyers of electric vehicles is access to charging and battery concerns. Voltpost is a charging infrastructure platform that retrofits existing lampposts and turns them into electric vehicle charging stations.  The company's lamppost integration can be used both curbside in existing urban scapes with two charging modules or in parking lots where four modules are available; both types are quick to install, using existing conduits, allowing for seamless electrification without massive infrastructure investment.  Drivers can access real-time availability via the Voltpost's app while also making dedicated reservations.
AlleyWatch caught up with Voltpost CEO and Founder Jeff Prosserman to learn more about the business, the company's strategic plans, latest round of funding, which brings the company's total funding raised to $4.9M,  and much, much more…
Who were your investors and how much did you raise?
Voltpost successfully closed a $3.6M seed funding round. The round was led by RWE Energy Transition Investments, Twynam Funds Management, Exelon Foundation, Good News Ventures, Climate Capital, and other mission-aligned investors.
Tell us about the product or service that Voltpost offers.
Voltpost decarbonizes mobility and democratizes charging access by retrofitting lampposts into modular electric vehicle charging stations. This technology reduces the cost, timing, and footprint of charging station installation and provides communities with a scalable, equitable solution.
The Voltpost charging system is a modular and upgradable non-invasive unit that retrofits existing lampposts. The patent-pending system encapsulates lampposts and leverages the existing conduit. There are two charging modules in the curbside configuration and four charging modules in the parking lot configuration.
The trim footprint of each Voltpost unit ensures there is minimal impact on the public sidewalk. An integrated cable management system and locking plug safeguard the charging functionality, reducing downtime from vandalism or cable theft.
In addition, the Voltpost charger seamlessly connects to the mobile application to control charging events. The Voltpost mobile application has discovery, parking, charging, billing, and impact features. It will provide drivers access to power from the grid while the cloud management system measures charging events. Drivers will gain visibility to Voltposts on a map, make advance reservations, track charging remotely, pay based on electricity consumed, and gain insights on financial and environmental savings.
We reduce greenhouse gas emissions and air pollution by rapidly deploying chargers that accelerate the electric mobility transition. Our goal is to empower people and communities to take climate action and to be a transformative force in the climate movement by making charging access as common as lampposts. Our platform enables a sustainable and equitable future for people and our planet.
What inspired the start of Voltpost?
The last decade was the hottest ever. People globally are enduring climate disasters. Our individual actions matter and we can turn the tide. We are running out of time. Current charging options are not good enough. This is why we are transforming the charging experience. Voltpost makes charging scalable, convenient, and equitable. We empower people and communities to take climate action. We are doing good for a better tomorrow. My cofounders Jörn Vicari, Luke Mairo and I started Voltpost in 2021 to reduce transportation emissions by accelerating electric vehicle adoption.
Prior to starting the company, I was the director of innovation at Samsung in New York City where I led product development ranging from talking refrigerators with cameras to mobile applications that present augmented reality. Given the state of the climate crisis, I hit eject on my job mid-pandemic to start the Columbia University Sustainability Management graduate program. In my first semester, I wrote a research paper that sparked this company.
I first collaborated with Voltpost cofounder and Chief Product Officer Jörn Vicari at Samsung where he led product design across all smart-enabled categories. With over 20 years of award-winning product direction and 50 patents, I knew Jörn could bring the Voltpost vision to the world.
I then called Luke Mairo, president of the Columbia University Environmental Entrepreneurs student group in our Masters program. Prior to cofounding Voltpost as Chief Operating Officer, Luke held banking and sustainability leadership roles at Barclays, as well as a mentorship position with Techstars.
With this team aligned, we had the foundation to build something amazing.
How is Voltpost different?
The Voltpost charging system leverages a first-of-its-kind approach: a modular, upgradable, and noninvasive unit that encases existing lampposts and leverages the existing conduit. By retrofitting the existing lamppost, we are able to reduce the cost, timing, and footprint of charging station installation, while serving EV drivers living in multi-unit housing who lack dedicated parking spaces. Additionally, the modularity and upgradability approach reduces operating and maintenance cost while maximizing charger uptime through time-efficient replacement. The modularity also enables future product capabilities that could include 5G, multi-modal charging, and other grid services.
What market does Voltpost target and how big is it?
The Biden-Harris Administration recently announced that EVs could account for 30-42 million vehicles on the road by 2030. The President's Bipartisan Infrastructure Law is investing $7.5B in EV charging, and the country is on track to install 1.2 million public chargers by 2030 to meet demand and reduce greenhouse gas emissions. Around 1 million of these charging ports are expected to be Level 2 charging, which provide convenient, low-cost charging to meet a variety of daily needs, with the remaining being faster chargers that are critical to driver confidence and longer distance travel.
Voltpost is actively working with cities across the country to increase access to EV chargers. The need for public chargers is particularly acute in cities, where air pollution makes the need for EVs more pressing, since a majority of drivers do not have private parking and therefore nowhere to charge an EV at home.
What's your business model?
Voltpost uses a Hardware-as-a-Service (HaaS) model to deliver value to public and private partners. The HaaS model provides Voltpost with recurring contracted licensing revenue and aligns with our low-cost, low-maintenance, and upgradable service.
Voltpost licenses hardware and software services to municipalities for a contracted annual fee. Voltpost allows cities to generate revenue by including a fee for charging events, offsetting the annual Voltpost licensing fee. Voltpost is a pass-through for customers to pay the utility rate of electricity.
Customers can also outright purchase and own Voltposts with annual servicing fees. Servicing includes maintenance, warranty, and support. Customers set the charging pricing to earn revenue, recoup project costs, and profit.
Voltpost is pursuing grant opportunities to provide pilots at little to no cost to the customer. This serves as a "freemium" model in which the service payments would be covered by the grant period.
How are you preparing for a potential economic slowdown?
As a climate technology company with a differentiated charging solution, we have not been impacted by the economic slowdown in the same capacity as later-stage companies. The Voltpost team has remained frugal since starting the company. The leadership team remains focused on keeping costs down to generate the greatest value for all shareholders. We are riding an uptick in the climate technology sector by developing the right technology, at the right time, with the right team.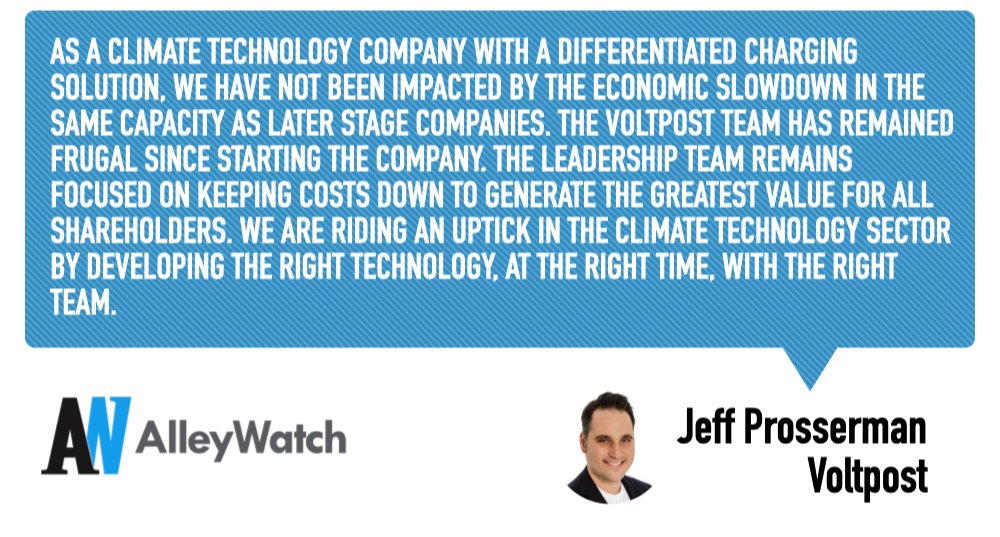 What was the funding process like?
We started raising the Voltpost seed round after kicking off our first pilot project in NYC during 2022 NYC Climate Week. By participating in 6 climate technology accelerators since starting the company, we have built a strong community of supporters. We developed relationships with investors early and continued to cultivate these relationships throughout raising the round.
We were excited to have RWE Energy Transition Investments confirm being the lead investor in the round. This momentum enabled other mission-aligned investors to commit. We are grateful for the partnerships we have forged to scale the company.
What are the biggest challenges that you faced while raising capital?
The implosion of Silicon Valley Bank slowed down the process to close the round. In spite of the broader financial market turbulence, investors remained committed to our vision, product, and team. Honestly, fundraising as the global financial markets are falling apart is hard. But, we did it.
What factors about your business led your investors to write the check?
Our investors shared that they invested in our high quality management team. This includes our highly relevant industrial design experience, creative approach, compelling drive, business acumen, and culture. Additionally, our investors recognize the market opportunity with our unique charging solution. We are capturing a part of the market that is prime for disruption and policy tailwinds, such as the aforementioned Bipartisan Law, that will support this. Our investors also appreciate our healthy unit economics and innovative business model. Ultimately, seed stage investors are investing in the opportunity, vision, and team.
What are the milestones you plan to achieve in the next six months?
Funding will be used to commercialize the Voltpost platform and rapidly deploy lamppost chargers. We are securing contracts with customers throughout the US for wide-scale projects.
What advice can you offer companies in New York that do not have a fresh injection of capital in the bank?
There is a thriving startup community in New York that is very supportive to navigate challenges together.  It is essential for startups to keep burn low by managing expenses and cash flow efficiently to extend runway. Additionally, developing alternative scenarios and plans are vital, as it allows the leadership team to have flexibility and adapt to changing market conditions or unforeseen challenges. Fortunately, climate tech has been somewhat resilient during a time of decreased fundraising activity.
Where do you see the company going now over the near term?
We are ramping up production to deploy thousands of lamppost chargers. This includes locking down contracts with municipalities, utilities, and private enterprises, as well as building strategic partnerships with OEMs, technology providers, and other stakeholders in the mobility ecosystem. As a purpose driven company, we are driving to make a positive impact. We are setting up the foundation to have the largest public lamppost charging network in the US. This network will make a significant impact to exceed the US goal of reducing emissions by at least 50% by 2030 and the EPA rule of 60% EV sales by 2030.
What's your favorite summer destination in and around the city?
As a New Yorker, it's hard to choose just one favorite spot. I love to run around Brooklyn Bridge Park in the summer. When we started the company, I used to run along the water at sunrise thinking about climate change and the impact we could have by deploying lamppost charging across NYC. Today, we are delivering on our goal to make New York City more sustainable for future generations.
---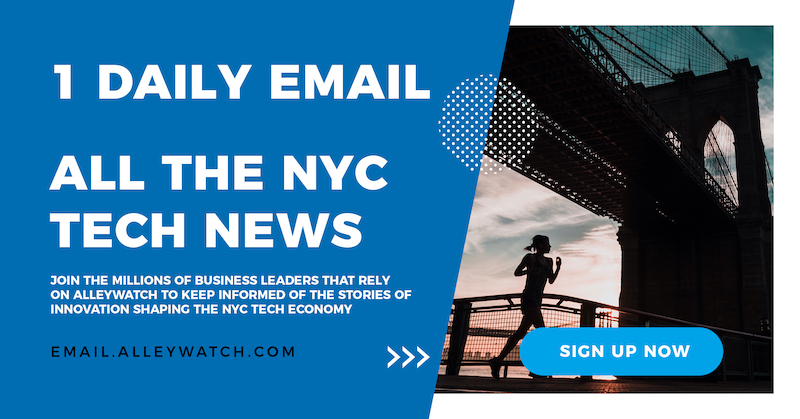 You are seconds away from signing up for the hottest list in Tech!
---
https://www.alleywatch.com/2023/07/voltpost-lamppost-lightpost-electric-vehicle-charging-stations-retrofit-hardware-as-a-service-jeff-prosserman/ Voltpost Raises $3.6M to Turn Existing Lampposts into Electric Vehicle Charging Stations – AlleyWatch