New York
Uncaged Innovations Raises $2M for its Leather Alternative That Eliminates All the Harm Associated with Traditional Leather – AlleyWatch
Animal agriculture and its byproducts like leather are leading contributors to climate change.  It's been estimated that the production of one leather bag requires the clearing of just under a quarter acre of land to provide feed for the cattle needed. Then there is the tanning process to consider which yields its own set of harmful impacts including carcinogens and water contamination. Uncaged Innovations is a biomaterials company that has developed its own proprietary sustainable leather alternative using plant-based inputs.  The material has been developed with eco-friendliness in mind, does not involve any harm to animals, and only uses responsibly sourced elements. Uncaged Innovations can produce a variety of different leather types and textures in mere hours that have the same texture and feel as animal leather while shaving years off of the production process. The process also reduces the quantity of materials needed as there are no unusable patches as a result of natural markings that are not considered aesthetically appropriate for use.  Uncaged's bioleather is versatile enough to be used in fashion accessories, automobiles, and home applications.
AlleyWatch caught up with Uncaged Innovations CEO and Cofounder Stephanie Downs to learn more about the business, the company's strategic plans, latest round of funding, which brings the total funding raised to $2.3M, and much, much more…
Who were your investors and how much did you raise?
We have secured a diverse group of esteemed investors and grants for our initial funding round. Our investors include InMotion Ventures, the investment arm of Jaguar Land Rover, VegInvest, Stray Dog Capital, Alwyn Capital, GlassWall Syndicate, and Hack Capital. Their support and belief in our vision validate the potential of our business model and the value of our vegan bio-leather technology.
Additionally, we have been recognized for our innovative approach by receiving an SBIR grant from the National Science Foundation. This grant acknowledges the promising research and development we have undertaken to create our unique technology.
Furthermore, we have been awarded a grant through FuzeHub, a New York State program that supports groundbreaking projects. This grant provides crucial funding to further our research and development efforts, enabling us to push the boundaries of sustainable and cruelty-free alternatives.
With a pre-seed round totaling $2 million in funding, we are well-positioned to drive innovation, expand our capabilities, and make a lasting impact in the market. We are grateful for the trust and support of our investors and grant providers, and we are excited to leverage these resources to accelerate our growth and bring our vegan bio-leather products to the world.
Tell us about the product or service that Uncaged Innovations offers.
Our product is a bio-leather. BioLeather is a sustainable leather alternative made from plant based-ingredients including grain by-products. The idea was sparked after studying leather fibrils at the ultrastructure and molecular levels. UNCAGED's bio-interfusion process extracts grain protein molecules and fuses them with other plant-based elements to create a new material that replicates leather.
Our mission is to revolutionize the industries of fashion accessories, automobiles, and home goods by providing a vegan alternative to traditional leather. We take pride in producing high-quality bio-leather that is not only stylish but also aligned with our core values of being eco-friendly, sustainable, and cruelty-free.
Our vegan bio-leather is meticulously crafted using innovative and sustainable materials, ensuring that no animals are harmed in the process. By opting for our bio-leather, our customers can embrace a compassionate lifestyle without compromising on style or functionality.
One of our key differentiators is our commitment to environmental sustainability. Traditional leather production is known for its significant environmental impact, but with our vegan bio-leather, we strive to minimize the carbon footprint associated with the manufacturing process. Our materials are sourced responsibly, and our production methods are designed to reduce waste and promote a circular economy.
We envision a future where fashion accessories, automobiles, and home goods can be enjoyed without causing harm to animals or the planet. By choosing our vegan bio-leather, our customers contribute to this vision and join us in creating a more compassionate and sustainable world. We invite you to explore our range of products and be part of the movement toward ethical and eco-conscious choices.
What inspired the start of Uncaged Innovations?
My journey toward animal welfare began over two decades ago, but the true turning point came in 1999 when I embarked on my first entrepreneurial venture. Those initial years were filled with excitement and curiosity. However, I needed to give back and find solace in the chaos of entrepreneurship. I decided to volunteer at an animal shelter and little did I know that this simple act of kindness would change my life forever.
Immersed in the animal rescue world, I quickly developed an unwavering passion. Witnessing the impact of my involvement and the difference I could make by taking action ignited a fire within me. However, it was a single moment, while enjoying a pork sandwich at a barbecue restaurant, that sparked a profound realization. Here I was, dedicating my time to help animals while simultaneously consuming another form of animal life. Intrigued and compelled to learn more, I delved into online videos that shed light on the realities of animal agriculture. The experience stirred my conscience, and in 2002, I embraced vegetarianism. A few years later, I transitioned to a vegan lifestyle, aligning my actions with my values.
This pivotal shift opened a new path for me, one where I could leverage my business acumen to make a tangible difference in the lives of animals. I began assisting animal welfare groups in their outreach efforts to global brands, providing valuable insights into animals and the supply chain. Specifically, I advised companies on how they could remove animals from their supply chains, advocating for compassionate alternatives. The synergy between my passion for animals and my business expertise deepened my understanding of social enterprises, leading me to embark on a new venture—UNCAGED Innovations. UNCAGED is an emerging bio-materials company serving the fashion, accessories, automobile, and home goods industries.
How is Uncaged Innovations different?
We stand out in the market due to several key factors that differentiate us from others:
Ethical Focus: Our primary motivation is driven by our deep commitment to animal welfare. We are passionate about creating innovative solutions that eliminate the need for animal exploitation in various industries. Our focus on vegan bio-leather reflects our unwavering dedication to providing cruelty-free alternatives without compromising quality or style.
Sustainable Practices: We are dedicated to sustainability in our operations. From the materials we source to our manufacturing processes, we prioritize eco-friendly practices. Our vegan bio-leather is made from renewable and biodegradable materials, reducing the environmental impact of traditional leather production. By choosing our products, customers can align themselves with a brand that prioritizes the health of our planet.
Quality and Durability: We understand that our customers expect products that are not only ethically produced but also meet their functional and aesthetic needs. We take pride in delivering vegan bio-leather that is of the highest quality. Our materials are carefully selected and crafted to ensure durability, longevity, and a luxurious feel. We believe sustainable choices should not require any compromise on quality or performance.
Innovation and Adaptability: As a brand rooted in innovation, we continuously explore new technologies and materials to improve our products. We stay ahead of industry trends, allowing us to offer cutting-edge alternatives to traditional leather. Our commitment to innovation enables us to adapt to evolving customer demands and deliver sustainable solutions that keep pace with the ever-changing market.
With our unique blend of ethical focus, sustainability, quality, innovation, and positive impact, we offer a truly distinctive and compelling option for those seeking vegan bio-leather alternatives.
What market does Uncaged Innovations target and how big is it?
We target the market for sustainable and cruelty-free alternatives to traditional leather which is an $85B industry. With our vegan bio-leather technology, we cater to various industries, including fashion accessories, automobiles, and home goods. We aim to offer eco-friendly, plastic-free, and sustainable alternatives that align with the growing demand for ethical and environmentally conscious products.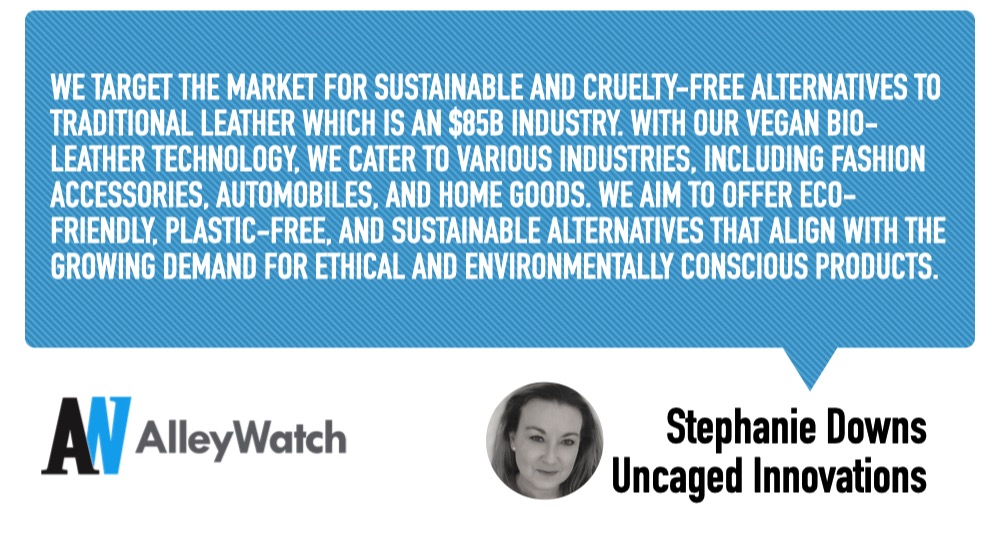 The market for sustainable alternatives to leather is rapidly expanding as consumers become more conscious of traditional leather production's environmental impact and ethical concerns. According to various market research reports, the global vegan leather market is projected to experience substantial growth in the coming years. Factors such as increasing consumer awareness, stringent regulations on animal welfare, and the desire for more sustainable materials drive the demand for cruelty-free and eco-friendly alternatives.
By targeting this market, we strive to position the company at the forefront of a significant and evolving industry. As consumers prioritize sustainability and ethical considerations in their purchasing decisions, the potential for growth and market penetration is substantial. Our innovative vegan bio-leather technology makes us uniquely positioned to capture a significant share of this expanding market and revolutionize the way products are made and consumed.
What's your business model?
Our business model is B2B manufacturing and producing eco-friendly materials and selling them to brands in the fashion accessories, automotive, and interior decor industries. Revenue is generated through product sales, where we establish partnerships with fashion, accessories, and automobile brands.
By working together, we can integrate vegan bio-leather technology into the existing product offerings, expanding the market reach and impact of the sustainable material.
How are you preparing for a potential economic slowdown?
We are an experienced team with a CEO who has operated start-ups during economic downturns. We have operated a lean model from our inception and built the company from idea to scale with 1% of the funding competitors have spent. We know how to leverage partners and creative strategies to move ahead and grow during any economic situation.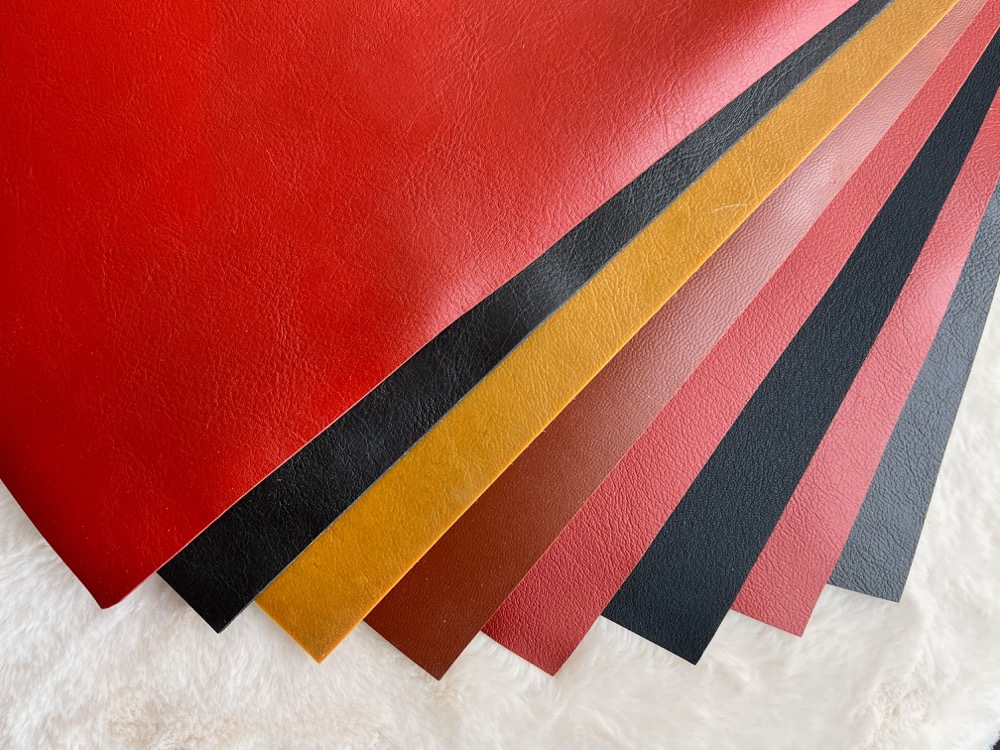 What was the funding process like?
The last year has been challenging for all start-ups. Fortunately, our initial investors continued to support our mission, and the quality of our material innovation helped us secure strategic investors like Jaguar Land Rover. We are opening a larger Seed round and already have tremendous interest because of our track record strategically using funds. We already have interest in a larger seed round which we are on target to close by the fall.
What are the biggest challenges that you faced while raising capital?
One of the biggest challenges we faced while raising capital, especially in uncertain market conditions, was the increased risk aversion among investors. During economic uncertainty, investors tend to be more cautious and selective in their investment decisions. This can make it challenging to secure funding for a business. Additionally, uncertain market conditions may lead to decreased investor confidence and a reluctance to commit to long-term investments. Investors may be more hesitant to take on new ventures or require more thorough due diligence before deciding.
Furthermore, the competition for funding can intensify during uncertain times. With many businesses seeking capital to sustain or grow their operations, the pool of available funding may become more limited. This can create a more competitive landscape, making it crucial to effectively differentiate a business and articulate its unique value proposition. Navigating these challenges requires careful planning and preparation.
So, we learned how important it is to build strong relationships with potential investors, demonstrate a solid track record, and showcase our ability to adapt to changing market conditions to instill confidence.
While raising capital in uncertain market conditions can be challenging, it is not insurmountable as we did successfully. With a well-thought-out strategy, a compelling business case, and perseverance, we overcame these challenges and secured the necessary funding to support our business goals.
What factors about your business led your investors to write the check?
The factors that led our investors to write the check for our business are primarily related to scalability, sustainability, price point, and our leadership.
Technology: The quality and performance of traditional leather comes from the protein structure of collagen. UNCAGED is the first and only innovator to leverage structural proteins to replace animal collagen, enabling us to create a fiber that looks, feels, and performs like leather.
Scalability: Our investors recognized the scalability potential of our business. They saw that our business model and operations have the capacity to expand rapidly and serve a larger market. Scalability is attractive to investors as it suggests the potential for significant growth and returns on their investment.
Sustainability: Investors are increasingly interested in businesses that prioritize sustainability. They saw that our business aligns with sustainable practices and offers eco-friendly solutions. This aspect resonated with our investors, as sustainability is not only important for the environment but also for long-term business viability.
Leadership: Our investors were impressed by our team, particularly the expertise and experience of Stephanie Downs and Dr. Xiaokun Wang.

With more than 20 years of experience as an entrepreneur, over 13 years as an advisor on animal material alternatives to the fashion and automotive industries, and having founded the Material Innovation Initiative and the largest plant-based meat company in India, Stephanie brings her innovative thinking and business knowledge to the team.
Dr. Wang has a Ph.D. in Biomedical Engineering from Georgia Tech and did her post-doc at Johns Hopkins University. She has over 15 years of experience developing novel biomaterials and worked for Johns Hopkins, fabricating corneal implants from biomaterials.
What are the milestones you plan to achieve in the next six months?
In the next six months, our primary milestones include refining full-scale production of our eco-friendly materials and conducting another investor raise. These milestones are crucial for our growth and expansion plans. We aim to optimize our manufacturing processes, increase our production capacity, and ensure the consistent delivery of high-quality products to meet the demand in the market. Additionally, we will actively engage with potential investors to secure the necessary funding to support our scaling efforts and further develop our innovative technologies.
In the next six months, our primary milestones include refining full-scale production of our eco-friendly materials and conducting another investor raise. These milestones are crucial for our growth and expansion plans. We aim to optimize our manufacturing processes, increase our production capacity, and ensure the consistent delivery of high-quality products to meet the demand in the market. Additionally, we will actively engage with potential investors to secure the necessary funding to support our scaling efforts and further develop our innovative technologies.
What advice can you offer companies in New York that do not have a fresh injection of capital in the bank?
For companies in New York that do not have a fresh injection of capital in the bank, here is some advice:
Run lean: Focus on optimizing your operational efficiency and reducing unnecessary expenses. Evaluate your current spending and identify areas where you can cut costs without compromising the core functions of your business.
Expand the runway with smaller, more frequent raises: Instead of relying on a large capital infusion, consider raising smaller amounts more frequently. This approach can help you extend your runway and provide the necessary resources to keep your business running while you explore additional funding opportunities.
Explore alternative funding options: Look beyond traditional venture capital and explore alternative funding sources such as angel investors, grants, loans, crowdfunding, or strategic partnerships. These options can provide the financial support needed to sustain and grow your business.
Focus on revenue generation: Strongly emphasize generating revenue and increasing your sales. Explore new customer acquisition strategies, optimize your pricing models, and seek out partnerships or collaborations that can help expand your market reach.
Leverage existing resources: Maximize the value of your existing assets and resources. Identify untapped opportunities within your current customer base, network, or intellectual property that can generate additional revenue streams or cost savings.
Seek mentorship and guidance: Connect with experienced entrepreneurs, industry experts, or mentors who can provide valuable insights and guidance. Their expertise can help you navigate financial challenges, identify growth opportunities, and make informed decisions.
Remember, financial constraints can be challenging, but with strategic planning, resourcefulness, and a focus on revenue generation, you can navigate these obstacles and position your company for future success.
Where do you see the company going now over the near term?
Over the near term, we plan to solidify our position as a leader in the next-gen leather industry. With the initial funding secured and the support of prominent investors, we aim to execute growth strategies and achieve several key milestones.
One of our primary objectives is to expand our production capacity to meet the increasing demand for eco-friendly vegan bio-leather. By investing in advanced manufacturing technologies and infrastructure, we will scale production while maintaining the highest quality and sustainability standards.
Additionally, we plan to penetrate the fashion accessories, automotive, and home goods markets by establishing strategic partnerships with renowned brands and manufacturers. By showcasing the superior qualities of our vegan bio-leather, we will capture a significant market share and become the preferred choice for businesses seeking sustainable and cruelty-free materials.
Furthermore, we will continue to invest in research and development to enhance our product offerings and explore new applications for our eco-friendly materials. We recognize the importance of innovation in staying ahead of the competition and meeting evolving customer demands.
What's your favorite restaurant in the city?
As a vegan, it is a treat to live in New York City where there are so many amazing plant-based restaurants. A few of my favorites are Blossom, Double Zero, and P.S. Kitchen.
---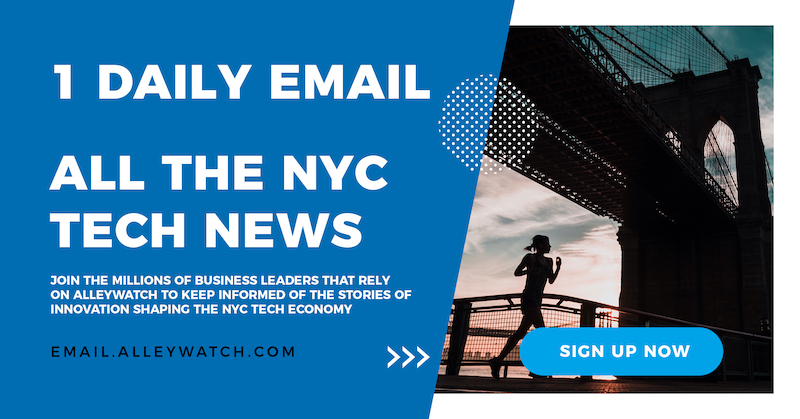 You are seconds away from signing up for the hottest list in Tech!
---
https://www.alleywatch.com/2023/06/uncaged-innovations-vegan-bio-leather-alternative-stephanie-downs/ Uncaged Innovations Raises $2M for its Leather Alternative That Eliminates All the Harm Associated with Traditional Leather – AlleyWatch