New York
'Risking your health to look cool': Museum of Smoking celebrates stars who light up | Museums
Absolutely no smoking is allowed inside the Museum of Smoking.
Sorry, but those are the rules according to the fire code, the exhibit's curators say. If you want to smoke, you can go outside.
Viviana Olen and Matt Harkins run THNK1994, an Instagram account and series of pop-up exhibits dedicated to honoring 2000s-era celebrity kitsch. They've put on shows celebrating Kim Cattrall, the Real Housewives, and the Olsen twins. Their latest effort attempts to capture "iconic moments in smoking history".
Don't expect to see Humphrey Bogart's ever-present onscreen smokes or Audrey Hepburn as Holly Golightly with her foot-long cigarette holder. The curators instead zero in on the 1990s to the 2010s, when "it girls" such as Naomi Campbell, Kate Moss and Paris Hilton were rarely snapped by paparazzi without a cigarette in their hand.
"I've been obsessed with smoking since I was a kid," Harkins said. "There was this website I would look at called smokingsides.net, which I now realize was a fetish website, that would just post every photo you could find of a female celebrity smoking. I just thought it was the most glamorous thing I'd ever seen."
This obsession is the foundation of the exhibit, which is a tongue-in-cheek love letter to a terrible, but admittedly captivating, habit. To state the obvious: smoking is bad for you. "Smoking kills," reads a poster in the exhibit, quoting Brooke Shields. "If you're killed, you've lost a very important part of your life."
Isn't the exhibit, and its glib attitude to the health risks, glamorising a deadly habit? Olen says she does not advocate smoking. "If I could have not started smoking, I would have chosen to do that and just enjoy it from afar," she said. "So we don't encourage anybody to start smoking. But [the New York City publicist] Kelly Cutrone did once say: 'You can do whatever you want until you're 35.'
2023 has seen a resurgence in celebrities smoking. Photos of Jenna Ortega and Anya Taylor-Joy with cigarettes in hand are regularly highlighted in the Daily Mail's sidebar of shame. Sarah Jessica Parker took a few drags as Carrie Bradshaw in the new season of And Just Like That… – her co-star Sarita Choudhury took several when playing Seema, a chain smoking luxury realtor. Lily-Rose Depp's life met her art (if that's what you can call HBO's The Idol) when she played a pop icon who was rarely without a cigarette. She smoked through just about every press appearance for the show.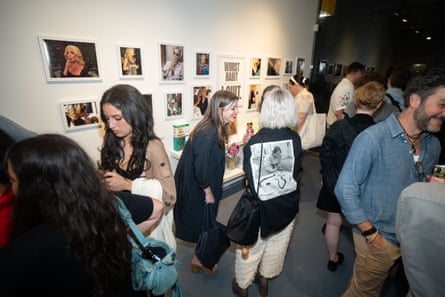 "There's something so cool and fixating about smoking that you're willing to risk your health to look cool," said Laura Collins, a Chicago artist who painted six black-and-white portraits of celebrities like Britney Spears, Cher and Rihanna smoking for the show. "I think that's where the allure comes from."
One of Collins' creations, the Mary Kate and Ash Tray, adorned with a portrait of the twins smoking, has sold out multiple times on THNK1994's website. In a way, this exhibit exists to promote the next run of merch.
There's no mention of the estimated 8 million people smoking kills each year, but a note in the program says: "Do not start smoking. Do not start vaping either. But if it's too late and you're already here, then welcome, isn't it gorgeous?"
Much of the art riffs on existing paparazzi shots of celebrities smoking – one video installation has footage of everyone from Tila Tequila to Katherine Heigl being filmed while puffing on cigarettes.
The exhibit also highlights one of the more deranged scenes from the original Sex and the City, where Lexi Featherston, a fictional party girl, smokes at a party while complaining about how boring New York has become – before slipping on her stiletto and accidentally falling out of a window to her doom. The influencer Tommy Do made a shot-by-shot re-creation of this scene, which plays at the museum, nailing the deranged look in Featherston's eyes.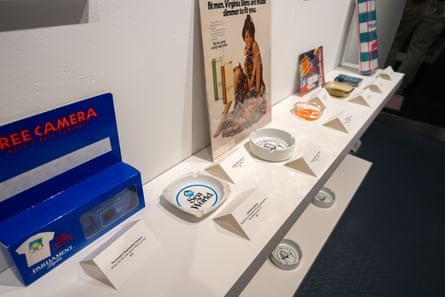 Visitors can also peruse campy smoking memorabilia, relics of a time when cigarette brands were promoted with free swag. There's a Virginia Slims-branded little black book from the 1980s, where a cosmopolitan woman might keep a list of her lovers. Ashtrays from the MGM Grand, Sizzlers, Arby's and the Paris Hilton (the hotel, not the heiress) harken back to a time when smoking indoors was the norm.
Though rates of smoking are down in the United States – the CDC reports that only about 11% of adults smoke, a historic low – the exhibit's curators say there's something relatable about seeing a celebrity smoke. It's visual shorthand that you both share the same bad, but human, habit.
"Smoking is just so real to me," Olen said. "There's a scene in Sex and the City where someone's about to say something serious to Carrie, and she goes: 'Hold on, we need to smoke.' When you smoke and talk with someone, you're just going to do it so much deeper. That's something I always come back to."


https://www.theguardian.com/culture/2023/aug/28/museum-of-smoking-new-york 'Risking your health to look cool': Museum of Smoking celebrates stars who light up | Museums