New York
Queensman hospitalized for 6 months with COVID-19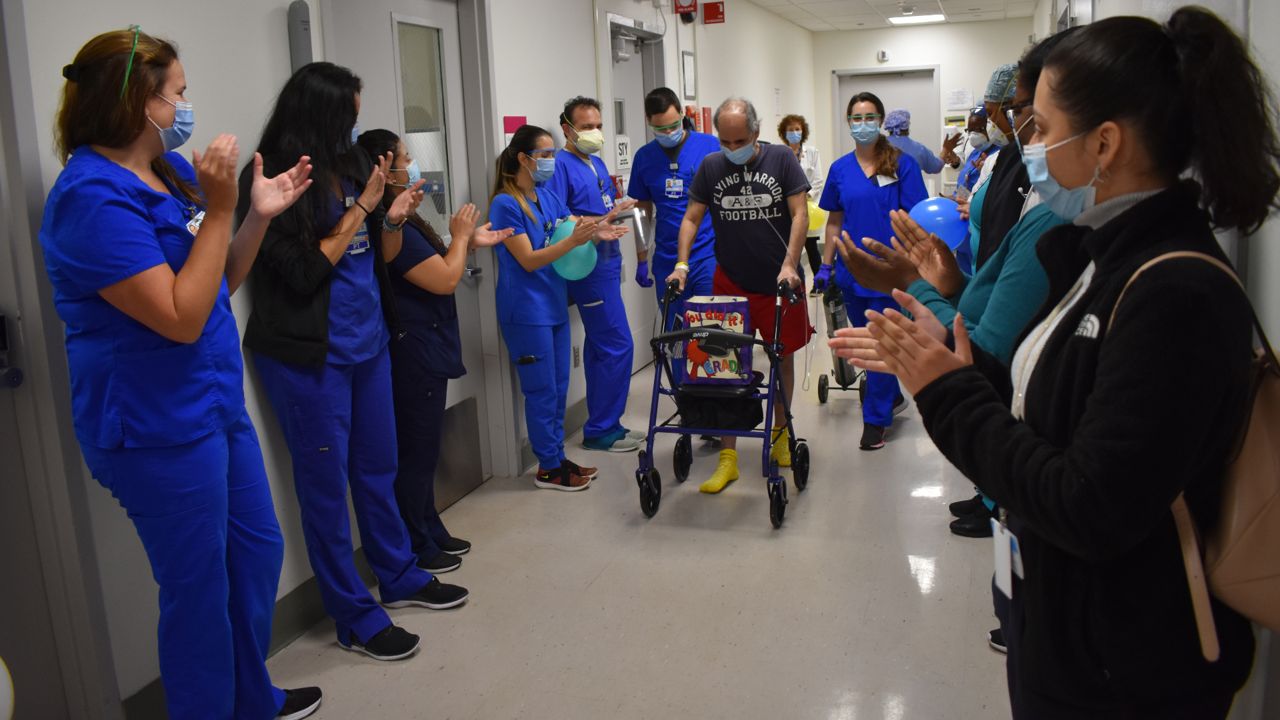 "True COVID Survivor". It's what a 61-year-old James Colon doctor calls him after fighting the coronavirus and being hospitalized for more than six months.
"It beat me on April 12th, when my whole world collapsed," said a retired school teacher and a nursing home worker.
He has been in a coma for more than three months after being taken by ambulance to Mount Sinai Queens due to dyspnea, so he does not remember much of his fight.
Colon spent a week at Central Park Field Hospital, where he was diagnosed with COVID pneumonia, acute respiratory failure, and bacterial superinfection.
"I'm surprised I made it. I don't downplay it. I know they did their best, but in the ideal place when you're in the situation I'm in No. It was like a waiting pattern. "He said.
The colon was moved to the morning side of Mount Sinai and placed on the ICU ventilator. He will decline for the next two months.
He suffered from cardiogenic shock and needed dialysis.
Colon didn't know she was there when her sister Edith Baldassarre was able to visit.
"He was out, I said to him'Jimmy'.' We call him Jimmy', what do you know, it's okay to let go, okay to let go "Baldassare said.
Instead, Colon fought for weeks until he woke up in late July and surprised everyone.
It was at that moment that his family said he was around the corner, but his fight wasn't over yet.
Colon was unable to move his arms and legs. His muscles were too atrophied to support him.
He wasted from £ 160 to just £ 90. Colon says it was when his survival became a spiritual exercise.
"To prevent insanity, I've tried to thank everything I have for as long as I can remember when I was sleeping," he said.
Motivated by the love of his family, including his 15-year-old son Julian and his niece Veronica, Colon began physiotherapy in September with the goal of walking again someday.
Dr. Jamilet Borgos, MD, a rehabilitation medicine doctor at Mount Sinai, said: "It will be a marathon, it will not be a sprint."
Approximately six weeks later, with the constant support of rehabilitation providers, Colon says he went from sitting in bed to walking on a walker hundreds of feet.
After spending 195 days in the hospital, when he was discharged on October 25, he walked alone with the help of a walker.
"I personally believe that life for me will return to what it was before," Colon said. He continues to recover at Baldassaré's house just in time for Thanksgiving holidays.
"You may need a little oxygen, but you'll be able to walk on the beach, walk in the park, spend time with family and friends, and enjoy the present of life," he said. Told.
Queensman hospitalized for 6 months with COVID-19
Source link Queensman hospitalized for 6 months with COVID-19