New York
Putin demands Western concessions before Russia will restart vital grain deal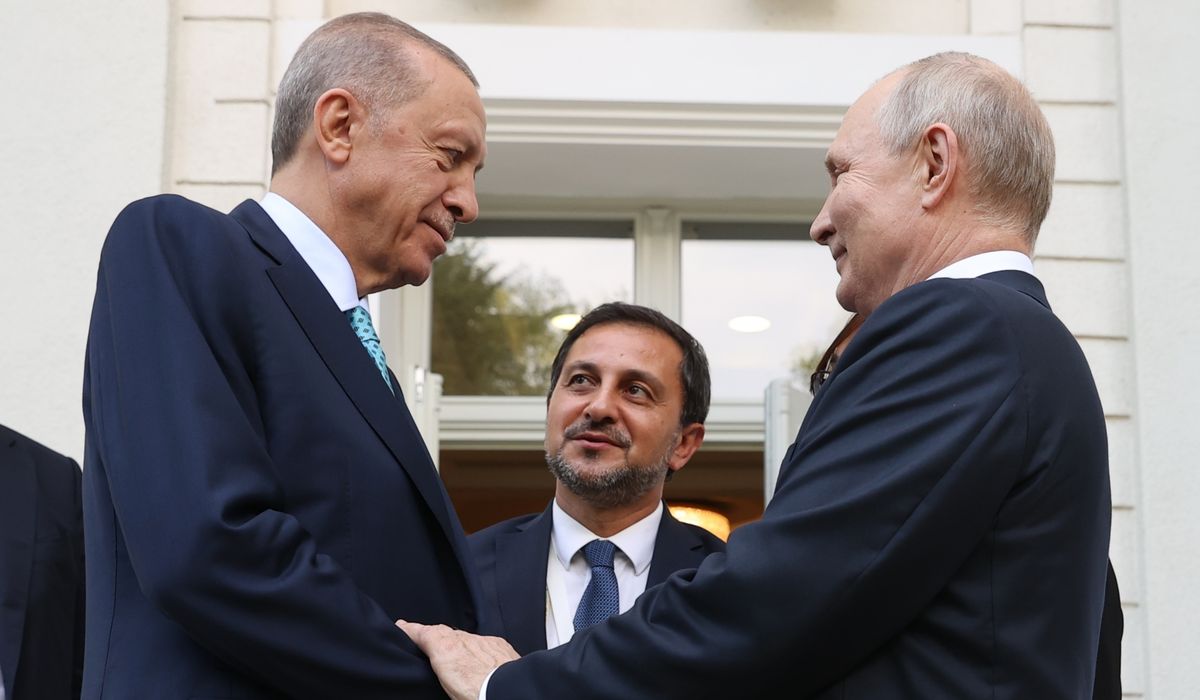 Moscow will reenter a key grain export deal only if the West lifts banking and other restrictions hurting the Russian economy, President  Vladimir Putin said Monday after a widely anticipated meeting with his Turkish counterpart.
Mr. Putin's face-to-face conversation with Turkish President Recep Tayyip Erdogan in the Russian coastal town of Sochi was billed as an opportunity to pull the Kremlin back into a U.N.-backed grain export deal established last year. That pact allowed for the export of grain and other food supplies from Ukrainian ports during the Russia–Ukraine war. Mr. Putin withdrew from the agreement in July after accusing the West of failing to live up to its end of the bargain, specifically a promise that Russian agricultural goods would be exempt from economic sanctions.
Western officials accused Mr. Putin of leveraging the global food supply in the war. They stressed that any ill effects on the Russian economy, including those in the food and agricultural sectors, can be blamed solely on Mr. Putin and his invasion of Ukraine in February 2022.
---
---
"It's only because of Putin that the freighters don't have free passage again," German Foreign Minister Annalena Baerbock told reporters Monday.
Governments around the globe acknowledge that the grain deal is vital. Ukraine and Russia are two of the world's biggest agricultural exporters, and the loss of Ukrainian grain since the war began has brought hardship and rising staple prices in developing countries.
The U.N.-brokered pact was considered one of the few diplomatic breakthroughs of the war and helped stave off potential food shortages.
---
SEE ALSO: Ukraine accuses Russia of trying to 'provoke a food crisis' after strikes on Odesa port
---
Mr. Putin said Monday that he is open to reviving the pact but accused Ukraine of using the grain export corridors along the Black Sea coast "to conduct terrorist attacks" against Russian forces. Mr. Putin also said Russian participation in the agreement hinges on removing Western roadblocks to exporting Russian food and fertilizer.
Those goods aren't directly subject to Western economic sanctions on Russia, but the Kremlin argues that other U.S. and European steps, such as suspending Moscow's participation in the SWIFT international banking system and restrictions on shipping and insurance, have greatly restricted its agricultural trade.
If such restrictions are lifted, Mr. Putin said, Russia could return to the deal "within the nearest days."
Mr. Erdogan expressed optimism that a deal would be reached soon but offered few specifics.
"We believe that we will reach a solution that will meet the expectations in a short time," he said.
The Turkish leader said grain exports are especially important for Africa and other parts of the developing world. Indeed, about 57% of Ukrainian grain exports allowed under the deal went to developing nations, including African nations, according to The Associated Press.
Russia has taken other actions that Western and Ukrainian officials say are hurting global food security. On Sunday, Ukrainian officials accused Moscow of trying to "provoke a food crisis" after Russian military strikes targeted a key port in Ukraine's Odesa region, a central hub for food exports.
Russia reportedly launched at least 25 Iranian-made "loitering" drones at Ukraine's Reni seaport along the Black Sea coast. Ukrainian officials said 22 of those drones were shot down. Two people were injured in the attack, which lasted over three hours, Ukrainian officials said.
The Kremlin cast the attack as a legitimate military move and said the drones were intended to take out Ukrainian military "fuel storage facilities."
Andriy Yermak, chief of staff for Ukrainian President Volodymyr Zelenskyy, said the attacks were part of a much larger Russian effort "to provoke a food crisis and hunger in the world."
Russia appears to have made a calculated decision to escalate its attacks on key Ukrainian ports as fierce fighting unfolds in other theaters of the war. Western officials have said Ukraine's slow-moving counteroffensive has finally begun to gain ground over the past several weeks, raising the chances that Kyiv can crack the heavily fortified Russian defenses in the Donbas region.
A collapse of those defenses would be a military disaster for Russia, but Mr. Putin appeared unconcerned Monday. He declared that the Ukrainian campaign had failed.
"As for the stalling of the counteroffensive, it is not a stalling; it is a failure," Mr. Putin said.
Even if that's true, Moscow is no longer on the offensive. With its army in a defensive posture, Moscow could ramp up its air attacks on ports, food depots and civilian infrastructure to provide maximum leverage over Ukraine and its Western allies.
U.S. officials have cast that strategy as exceedingly dangerous, particularly for a fragile international food supply dependent on goods transported through the Black Sea.
"This escalation demonstrates Moscow continues to prevent grain and foodstuffs from reaching those who need it most throughout the world. It is unacceptable. Putin simply does not care about global food security," State Department spokesman Vedant Patel told reporters last month after one of the alleged Russian strikes on Ukrainian ports. "The contrast here is quite sharp. Our Ukrainians are inspiring the world while Russia starves it by weaponizing food."


https://www.washingtontimes.com/news/2023/sep/4/putin-demands-western-concessions-before-russia-wi/?utm_source=RSS_Feed&utm_medium=RSS Putin demands Western concessions before Russia will restart vital grain deal