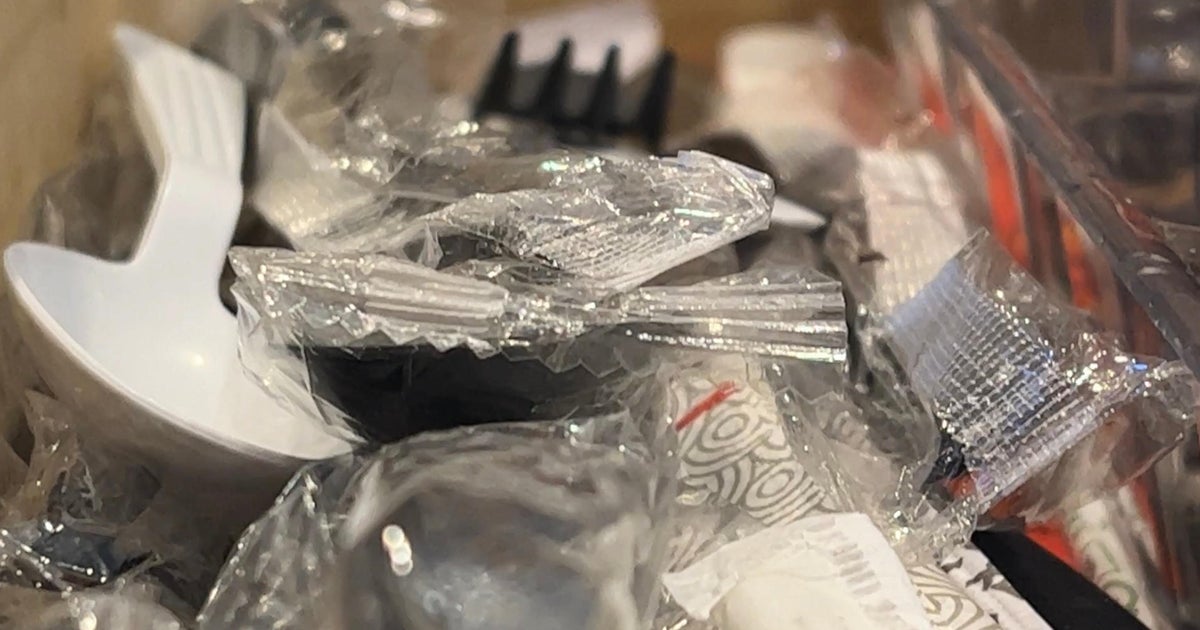 NEW YORK — A new city ordinance starting Monday aims to cut back on waste coming from restaurant takeout.
CBS New York has more on how Harlem is adapting to the skip-the-stuff rule.
Some restaurants are already skipping the stuff as they pack your to-go order, but be prepared to make your server aware if you're in need of napkins, utensils or condiments.
READ MORE: New York City rule banning single-use plastic in takeout orders goes into effect Monday
A common sight in any household is stacks of plastic cutlery cluttering the kitchen.
Each year, New York City recovers 36 million pounds of single-use plastic from the residential waste stream, according to the Department of Sanitation — with even more coming from commercial establishments.
That's about to change.
"It drives me crazy when you order some food and you get so many things which directly ends up in the garbage," said Antonio Settepani, co-owner of Settepani.
The Settepani family finds inspiration for their community impact in their native Italy's revolutionary recycling rules. They're currently developing a reusable pizza box to roll out this fall.
So, this new policy plays right into their plan.
"It's a simple idea. If you need it, ask for it. We give it to you," Settepani said.
Some seem less eager about the initiative.
"The utensils I can kind of understand, especially with fast food, but napkins? That's just ridiculous," Harlem mom Keshia Atkinson said.
Luckily, Atkinson carries wet wipes for her daughter, Katy.
Other meals may be more messy than fries, though, like the ones served at Chopped Cheese.
"The napkins, people usually use two. We give them the sandwich inside the bag with napkins. This is regular things," manager Sulaiman Saeed said.
Even a cup of coffee comes with a couple.
At Sylvia's down the street, staff has already started training.
"We decided to be proactive and put it in our platforms our POS system, so it's a prompt because habit is hard to change overnight," owner Crizette Woods said.
But amid initial confusion, an explanation about the global impact can bring acceptance.
"We're going to have to educate people around the world about the New York policies, but it's better for the planet and that's what it's all about," Woods said.
Cutting back on costs and cutlery clutter.
The new rules goes into effect Monday. Fines may be issued to anyone who violates the policy.
Have a story idea or tip in Harlem? Email Jessi by CLICKING HERE.
https://www.cbsnews.com/newyork/news/new-york-city-rolling-out-new-ordinance-on-single-use-utensils-for-takeout-orders/ New York City rolling out new rules on single-use utensils for takeout orders