New York
Mayor Eric Adams says cost to care for asylum seekers has ballooned to $12 billion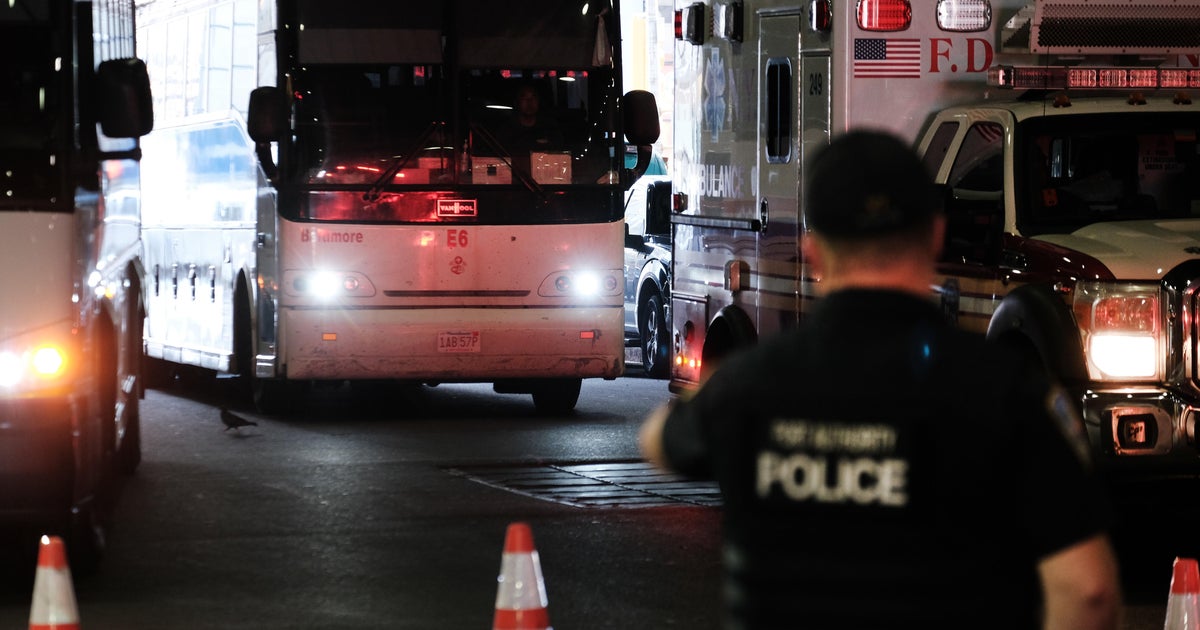 NEW YORK — Mayor Eric Adams said Wednesday the price tag to care for asylum seekers in New York City has tripled to an eye-popping $12 billion.
He added without help from federal or state officials, he'll have to make impossible decisions about cutting city services.
You know things are bad when the mayor of one of the most compassionate places on the planet says the fiscal cliff he's facing is so steep that in addition to cutting city services, he's also scrutinizing every dollar spent on the asylum seekers to find ways to cut costs.
"It could be something simple as the meal. If we could save, you know, one of two dollars on the meals. If we could save on the laundries, because, you know, all those sheets have to be cleaned. If we could save on napkins. We're looking everywhere to see how we can bring down the costs of the asylum seekers," Adams said.
READ MORE: Influx of children of asylum seekers means "everything changes," Mayor Adams says
Who would have figured that the skyrocketing cost of welcoming immigrants to New York City would come down to the need to buy cheaper napkins? But with nearly 100,000 asylum seekers here already and buses arriving every day, the city's estimated costs have tripled. The original estimate was $4.3 billion.
Adams said the $12 billion has to come from somewhere.
"Every service in the city will be impacted," Adams said.
READ MORE: Randall's Island will once again house asylum seekers
The mayor offered more grim statistics as he once again pleaded with the state and federal governments to open their checkbooks.
He said the city is currently housing 57,300 individuals. The tab per household is $383 per night for food, shelter and medical care. That breaks down to:
$9.8 million per night
$300 million per month
$3.6 billion per year
Costs went from $1.45 billion in the last fiscal year to and expected $4.7 billion this year. To put it in perspective, that's equal to the combined budgets of the FDNY, Sanitation Department and the Parks Department.
"We continue to face impossible decisions about allocating our resources and that means a lose-lose for our most vulnerable New Yorkers," Adams said.
READ MORE: Residents protest asylum seeker shelter at Sunset Park Recreation Center
The mayor's plea for help included asking the state to force more local governments to welcome asylum seekers, open more relief sites, and the biggest ask, more money.
He asked the feds to expedite work authorizations, declare a state of emergency, and, again, to send money.
"We are past our breaking point. New Yorkers compassion might be limitless, but our resource are not and our partners at the state and federal levels know this," Adams said.
The Legal Aid Society and the Coalition for the Homeless echoed the mayor's call for more state and federal aid, saying the city should not have to shoulder the crisis without help from President Joe Biden and Gov. Kathy Hochul.
And while the silence from the Biden administration has been deafening, the governor immediately stepped up by saying she would add to the $1 billion already budgeted for New York City.
"I've already spoken to leaders about probably needing to put another billion dollars in next year's budget. We have to deal in the realities. There has to be money to support the city in housing these individuals because this is a humanitarian crisis not of their own making," Hochul said.
READ MORE: Some asylum seekers outside Roosevelt Hotel sent to stay at church; others allowed inside temporarily
The governor has also agreed to have the state foot the bill to open an new shelter on Randall's Island and another in the parking lot at the Creedmoor Psychiatric Center in Queens.
"We're also scouring the state of New York and particularly the city for locations that we could use in a large-scale way, not just the small centers or the hotels," Hochul said.
READ MORE: New York City considering popular soccer fields on Randall's Island as home for asylum seekers
She said she is also trying to convince the Biden administration to let the migrants work, to change their status from asylum seekers to to something called "temporary protective status," or TPS.
"What does that mean? After 30 days, they can start working. I have hundreds of employers all across these state who loved the opportunity to hire these individuals, train them first, hire them, and bring them into the legal economy because they are sliding into the illegal economy now, especially here in the city," Hochul said.
The mayor is lamenting the lack of work permits that has created a black market job culture.
"I'm really curious about what's happening and how some of these migrant asylum seekers are being exploited. When you create this black market, you undermine not only our economics, you also undermine what we did to fight to have fair working conditions," Adams said.
https://www.cbsnews.com/newyork/news/more-buses-of-asylum-seekers-expected-to-arrive-in-nyc-as-tensions-flare-over-where-to-house-them/ Mayor Eric Adams says cost to care for asylum seekers has ballooned to $12 billion