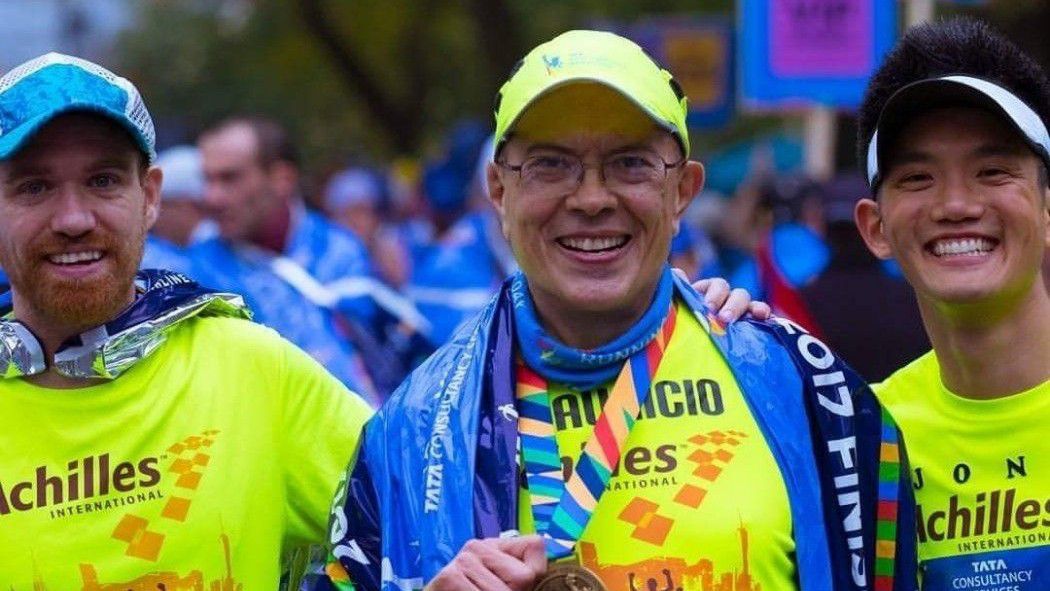 Mauricio Brandino, who laced up his sneakers for a run, anticipated the benefits of training.
"Walking floods your brain with endorphins and wakes it up. And even after you run, it's that nice feeling you have," said Brandino, a resident of Jackson Heights.
Brandino appreciates being able to move. In 2011, he fell unconscious after falling down the stairs of his home in Jackson Heights.
He suffered a traumatic brain injury that left him unable to walk or balance.
---
What you need to know
Mauricio Brandino suffered a traumatic brain injury in 2011

he could neither walk nor balance
After surgery and extensive physical therapy, he regained some of his motor skills and vision.
He is currently preparing for his 16th marathon with the help of physical therapy at Mount Sinai and volunteers from Achilles NYC.
---
However, he was determined to regain control of his body.
"Movement at every level, every ability is very important," Brandino said.
After surgery and extensive physical therapy, his mobility was restored.
He joined a support group and was inspired by a marathon runner who encouraged him to try running.
Through his inspiration for running, he found Achilles International, a group of volunteer athletes working out with people with disabilities.
Blandino went from walking to jogging to running.
"Anyone who hits a wall can stand up, pick up his piece, start with that first step, move on, take one step at a time, one step at a time, and build it up bit by bit. he said.
With the help of a guide, he's gearing up for his 16th marathon, the sixth TCS New York City Marathon.
"You experience this real journey. That's the real reward. The race is where it all boils down to one moment," said Achilles NYC guide Anthony Bonamassa.
There was little chance of crossing the finish line this year.
In March, Brandino hit a pothole and tore his abductor muscle, injuring his lower back.
"My fear was that this would end my running. I couldn't handle the thought," Brandino said.
With the help of his physical therapist, Dr. Joseph Herrera of Mount Sinai, he was able to avoid surgery.
"He's made an amazing recovery. Some people can't even recover from these types of tears, much less go back to running marathons. So I think his story is absolutely phenomenal." think.
Brandino said crossing the finish line this year could be his biggest comeback yet.
"Words cannot describe the empowerment you get when you cross the finish line," said Brandino.
Blandino said he would not take a single step as a matter of course.
http://www.ny1.com/nyc/all-boroughs/news/2022/10/28/a-marathon-journey-full-of-hurdles Marathon full of hurdles