New York
Interview with Union Square Hospitality Group CEO Chip Wade and Maurice Dubois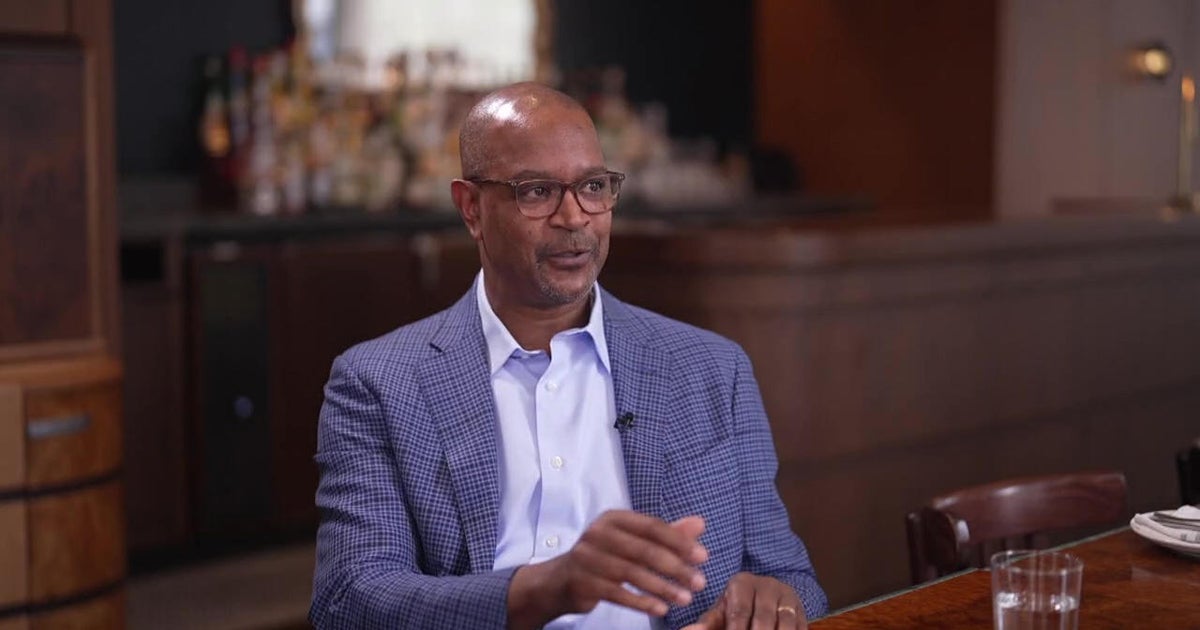 new york — Chip Wade is CEO of Union Square Hospitality Group, which owns some of New York City's most popular restaurants.
"As a kid who grew up and spent three years at Dunkin' Donuts, I can say that I've been all over the doughnut, and it's the best thing I've ever had," Wade said while sampling the new Cruller.
he's not wrong Maurice Dubois of CBS New York shared this fine cruller with Wade at Daily Provisions, one of his dozen restaurants in the company's portfolio.
Wade is a likely candidate for the position, having spent his career at fast-casual restaurant chains such as Red Lobster, TGI Fridays, and the aforementioned Dunkin', who started the restaurant business at the age of 15. You might think not. There are several black CEOs in this industry.
DuBois and Wade met at Si Siamo's private dining room on Manhattan's West Side.
"I'd like to start today with a snapshot of the city's shirted restaurants. How are you doing?" asked DuBois.
"New York City's economic engine, obviously, is Broadway and entertainment. Sports are back, and then obviously business is back. So restaurants are following the trend, and overall It's a very, very good situation," Wade said.
"The influx of immigrants. It's certainly a serious problem in the city, and the hospitality industry sees immigrants as potential workers as employees," Dubois asked.
"There are asylum seekers here, and they want to work, right? Our system is a little outdated when it comes to how long it takes for them to get a work visa. By the way, I think it's six hours, "a few months," Wade said.
"So what do you need?" asked Dubois.
"We could probably add another 50 to 70 employees," Wade said.
And of Union Square Hospitality Group employees, Wade said their health is central to the company's culture. He said consideration is in his DNA at USHG, which some say is a rarity in the hospitality industry.
"We are an organization with just over 2,300 employees, and because of the pandemic…we have had to lay off and furlough most of our employees," Wade said. "How can we take care of our former employees and colleagues in times of need as well as we did when we were thriving and open?"
So they created an employee relief program called "Hugs." Wade said employees can donate any amount from their weekly paycheck, and those in need of financial assistance can apply for grants of hundreds to thousands of dollars. They have raised millions of dollars for their efforts.
"Tell me about diversity and inclusion at this company. In the restaurant industry in general, you're a rare, rare commodity. You're in charge of a company like this, and a black man of this height." said DuBois.
"It's a passion of mine to make sure our employees and our employees represent the city," said Wade. "We actually put statistics and statistics about diversity and inclusion on our website. This is what our employees wanted and how we hold ourselves accountable."
The Union Square Hospitality Group was founded by Danny Mayer in 1985 and started with the Union Square Cafe. Today, the restaurant group has won more than 20 of his James Beard Awards, as well as several Michelin stars. It offers a myriad of dishes at a wide range of price points. As he walks through Ci Siamo's expansive dining room, the two-year-old can't help but see a man who looks completely authentic.
"I'm in my happy place, when I can see my guests, and I can hear the tapping of plates, when I hear this happening," Wade said.
Dubois asked about the restaurant's open kitchen.
"We wanted everyone to feel like they were coming to our home, and we wanted you to feel part of the overall dynamic scene," said Wade. rice field.
For DuBois, there's no better place than to have the CEO and Executive Chef standing in the kitchen and sampling his favorite dishes.
"It's a great uniter, right? And food has a way of touching our souls rather than just filling our bellies. Who and how we connect and why food." The people around us have a way of filling our hearts with soul, and that's how I feel right now," Wade said.
https://www.cbsnews.com/newyork/news/chip-wade-ceo-of-union-square-hospitality-group-im-in-my-happy-place/ Interview with Union Square Hospitality Group CEO Chip Wade and Maurice Dubois