Lifestyle
"Intertwined" exhibition and uncle John's tree get holiday lighting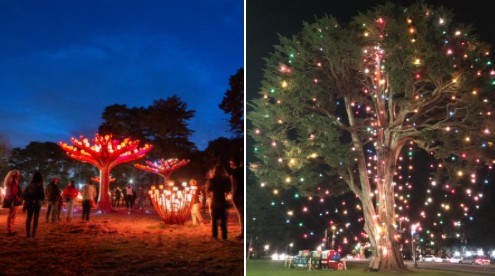 The 91-year-old tradition returns to San Francisco on Thursday night, and the one-year-old tradition magically joins it. NS Uncle John's tree lighting Scheduled for Thursday, December 2nd at 6pm and 7pm Intertwined lighting, NS Illuminated LED forest It was so popular last year Bring it back For the 2021 holiday season.
The secret is revealed … intertwined and back to Golden Gate Park this holiday season! 🌈💡🌿😍
From December 2nd, a fascinating forest of ever-changing lights will return to illuminate the Peacock Meadow and be enjoyed by visitors of all ages. https://t.co/c4TSxyo7am

📷 Jason Chin pic.twitter.com/iCY4WQF9Xg

— SF Parks Alliance (@SFParksAlliance) October 6, 2021
"Golden Gate Park on vacation is a magical place where families and children can get together and enjoy the spirit of the season," Mayor London Breed said in a release. "I'm very excited to have San Francisco's annual tree lighting at Golden Gate Park. I can't wait to start a new tradition that will last for years to come."
The varieties are certainly at hand for the wood lighting formula. According to SF Rec and Parks, "Wood lighting will take place around 6 pm, followed by a live performance and light show at the Golden Gate Band Shell at 6:30 pm. In the evening, Carnival Ride, Food trucks, live entertainment, festive lights and family activities for everyone! "The tree is located at the eastern entrance to Golden Gate Park near Fel Street.
Then head to Peacock Meadow and enjoy the relighting of artist Charles Gadeken. Intertwined LED forest. "This winter, Peacock Meadow at Golden Gate Park will once again transform into a fascinating forest of different world shapes and ever-changing lights," says Wreck and Park. "Intertwined" by San Francisco artist Charles Gadeken is a whimsical exploration of winding paths, colorful trees underneath, large clusters of flowers running around and admiring, and ever-changing light and magical landscapes. Create a wonderful land. Inspired by nature, this interactive art installation connects and captivates visitors of all ages. "
A treelight ceremony was also held on Tuesday night at Salesforce Park at the top of the Transbay Transit Center.
As an even more solemn note, tonight, Wednesday, December 1st, the park's AIDS Memorial Grove will also be lit from 4:30 pm to 9 pm.


"Intertwined" exhibition and uncle John's tree get holiday lighting
Source link "Intertwined" exhibition and uncle John's tree get holiday lighting