New York
Hearth Raises Another $4.6M to be the Operating System to Power Families by Blending Hardware with Software – AlleyWatch
We are all using an endless array of apps to manage our professional lives.  The ability of these apps to connect with one another brings a centralization that results in ease.  For our family lives, we use disparate physical bulletin boards, notes, apps, calendar invites, and conversations between spouses to manage our personal lives; leaving a lot to be desired.  Hearth Display is a first-of-its-kind operating system for families that blends hardware with elegant software that serves as a central hub for families to manage the endless mound of tasks and activities that a modern family encounters on a daily basis.  At its heart is a 27-inch touchscreen that handles everything from scheduling, task management, to-do lists, and routine building with built-in smart automation.   Hearth is currently priced at $599 with 3 months subscription ($9/mo) included. Since its launch, the company has been opening up preorders in different batches or "limited runs" with early adopters receiving units from the first iteration of the hardware earlier this past May. Now, Hearth boasts a waitlist of over 100K interested parties for its next fulfillment, planned for early 2024.
AlleyWatch caught up with Hearth Cofounder and CEO Mei Lin Ng to learn more about the business, the company's strategic plans, latest round of funding, which brings the total funding raised to $7.6M, and much, much more…
Who were your investors and how much did you raise?
We raised $4.6M in late seed funding from Female Founders Fund, Stellation Capital, Sweater Ventures, Behind Genius Ventures, and Ingeborg Investments – as well as an SPV led by Golden Hour Ventures and Dream Ventures which included various private, female investors who are now advisors to the brand. This round was preempted by Hearth's seed investors who seek to accelerate the brand's growth based on the strength of our metrics.
Tell us about the product or service that Hearth offers.
Hearth is a behavior change technology company that is shifting household dynamics through magically easy digital products that reward shared effort and shared responsibility. Hearth Display is a first-of-its-kind operating system that combines beautiful hardware with smart software to create a central hub for the thousands of decisions, tasks, and plans a family makes in a day – giving archaic bulletin boards, to-do lists, and fridge notes the boot.
What inspired the start of Hearth?
My cofounders and I created Hearth because we all grew up with "supermoms" – and saw firsthand how much energy goes into running a household. We are driven by a vision of an easier, more equitable household dynamic where responsibilities are shared and managed by everyone – and we believe technology is the tool to make it happen.
How is Hearth different?
Our core product, Hearth Display, is a centralized digital touchscreen that replaces all the analog tools a family uses to manage their lives. For the most part, we're competing with disaggregated systems like whiteboards, fridge notes, and separate calendars that don't stand a chance against the ease of our all-in-one operating system. While there isn't an overwhelming amount of innovation in this category, we have seen a few other startups developing family management apps. On average, mobile apps lose 77% of their daily average users within the first three days after download. After 30 days, that number spikes to 90%. 47% of those users will delete your app after that. Based on this research, we intentionally designed Hearth with a beautiful hardware component that is meant to be fixed in a central location of the home for full-family visibility. The importance of having a hardware-centric product was further underscored from survey data that indicated 70% of families are still using whiteboards for family management. This hardware, in combination with smart software and mobile access, Hearth's offering is completely unique to the market – and poised to truly change behavior and solve the pain points of family life.
Additionally, existing tools from competitors fail to address the democratization of this information across the family, as they are apps primarily built for one user. For example, kids under the age of 11 do not have a smartphone, and therefore are automatically excluded from current app-based family management offerings. Most competitors are not actually lightening the mental load that typically falls on women inside the household. Hearth offers a legitimate solution to the issue of the mental load by making it easy to recognize invisible work and redistribute across the whole family.
What market does Hearth target and how big is it?
American families across income levels are willing and ready to spend on household management-related solutions, presenting an estimated $122B opportunity. On a more macro level, the childcare economy is a $648B market that's ripe for reinvention, especially as the U.S. government spending provides fuel for private sector innovation, and 42% of employers plan to expand or add care as an employee benefit.
We designed Hearth to create better household dynamics for all. Hearth is informed by experts and tested by real families. From early sales, our primary demographic has been parents with 2+ kids, ages 30-54. Hearth has been ordered by customers in all 50 states – demonstrating the product's appeal to many.
What's your business model?
Hearth's business model relies on an initial hardware purchase of the device ($699) which is powered by a software subscription of $9/month. At Hearth we take privacy with the utmost seriousness, and we believe that when you're not paying for the product, you are the product. We charge a subscription with the promise that we will never share or sell customers' information without permission. Customer interactions on Hearth Display are only tracked for the purpose of improving their experience and data can be removed from our service at any time.
How are you preparing for a potential economic slowdown?
While we realize Hearth is a high-consideration product, the pain point we're solving for our customers is one that they experience acutely and consistently. Care, coordination and logistics are painful processes that families experience multiple times a day. For this reason, Hearth can be seen as a recession-resistant purchase.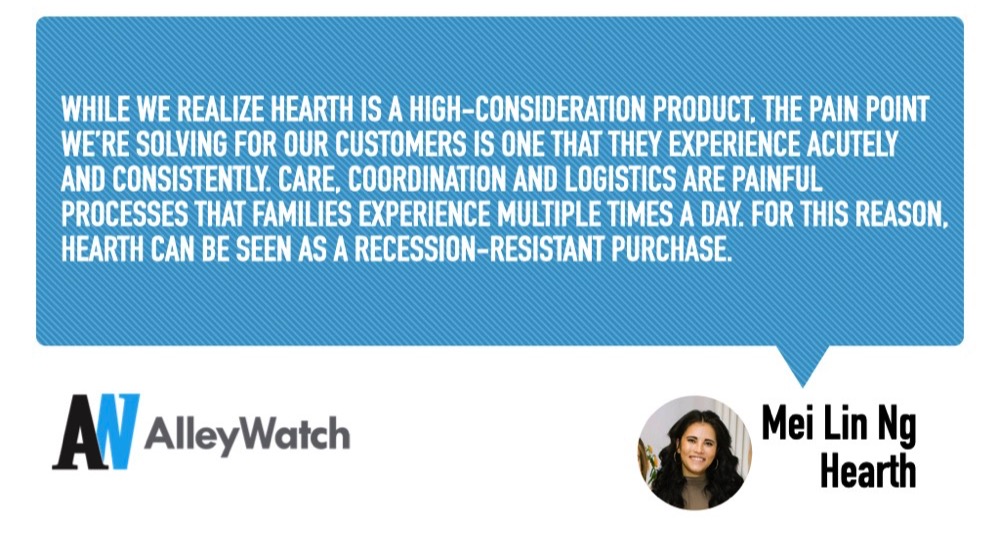 We're also looking to expand Hearth payment plans, offering options like Affirm and Afterpay, for customers who would like to pay in installments.
As an organization, we're continuing to pursue operational cost efficiency to provide resiliency inside the company as well
What was the funding process like?
It has been a long process to find investors that align with our vision and want to see solutions in a category that has been underserved by tech, which means going out and finding investors that can empathize with the problem we're solving.
Based on our fast execution, our major investors Stellation and Female Founders Fund, who follow our progress very closely, decided that they would like to increase their investments in Hearth based on the positive feedback from customers with Hearths in homes already and confidence in early customer acquisition.
As a part of the round, we decided to make space specifically for strategic female angels to join the table funding Hearth. At Hearth, we're on a mission to democratize household labor, which is a problem that disproportionately impacts women. We also believe that to fix problems for women, more women need to be at the table funding businesses and sharing in the upside.
What are the biggest challenges that you faced while raising capital?
The consumer that Hearth is building for is not the same as the investor we're pitching – often investors might not be able to empathize with the problem we're solving because it might not be a pain point they themselves experience
What factors about your business led your investors to write the check?
 Traction in customer acquisition and engagement from users. We have accumulated a waitlist of more than 100k customers prior to our limited drop of preorders in May 2023, during which we sold $1.4M in units in just a few days. We currently have hundreds of customers who have provided invaluable information about the product's efficacy – 93% are interacting with the device every single day, and we're seeing over 91% of tasks or to-do's actually getting completed (not forgotten about).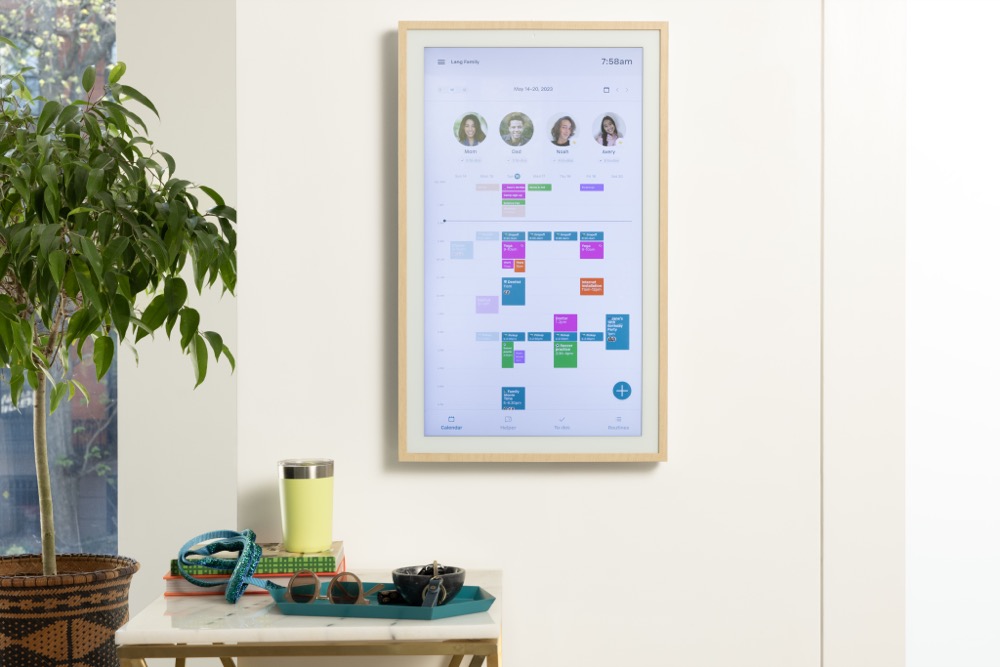 What are the milestones you plan to achieve in the next six months?
Continue to scale our customer base and make product improvements to make Hearth as magical as possible.
What advice can you offer companies in New York that do not have a fresh injection of capital in the bank?
Be efficient with the capital you have and make a product that customers love so that they want to go on the journey to build with you!
Where do you see the company going now over the near term?
Our mission is to make the pain points of family management easier and more equitable, so that households of all kinds can make the most of their time together.
What's your favorite summer destination in and around the city?
Prospect Park!
---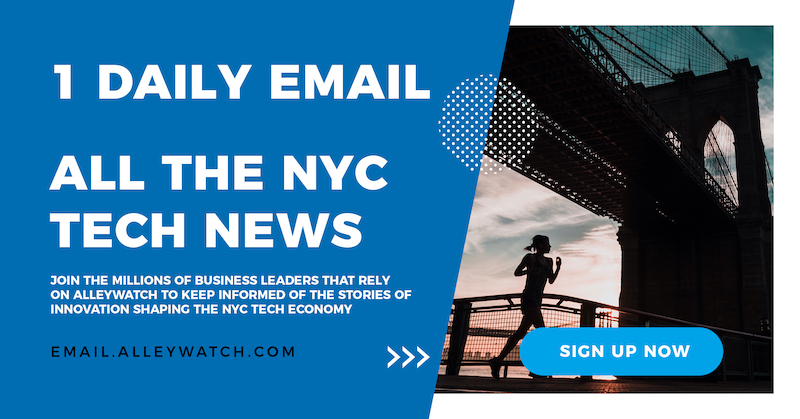 You are seconds away from signing up for the hottest list in Tech!
---
https://www.alleywatch.com/2023/09/hearth-family-management-platform-operating-system-hardware-software-mei-lin-ng/ Hearth Raises Another $4.6M to be the Operating System to Power Families by Blending Hardware with Software – AlleyWatch