Tech
Gift Guide 2021: Best of DVD and Blu-ray television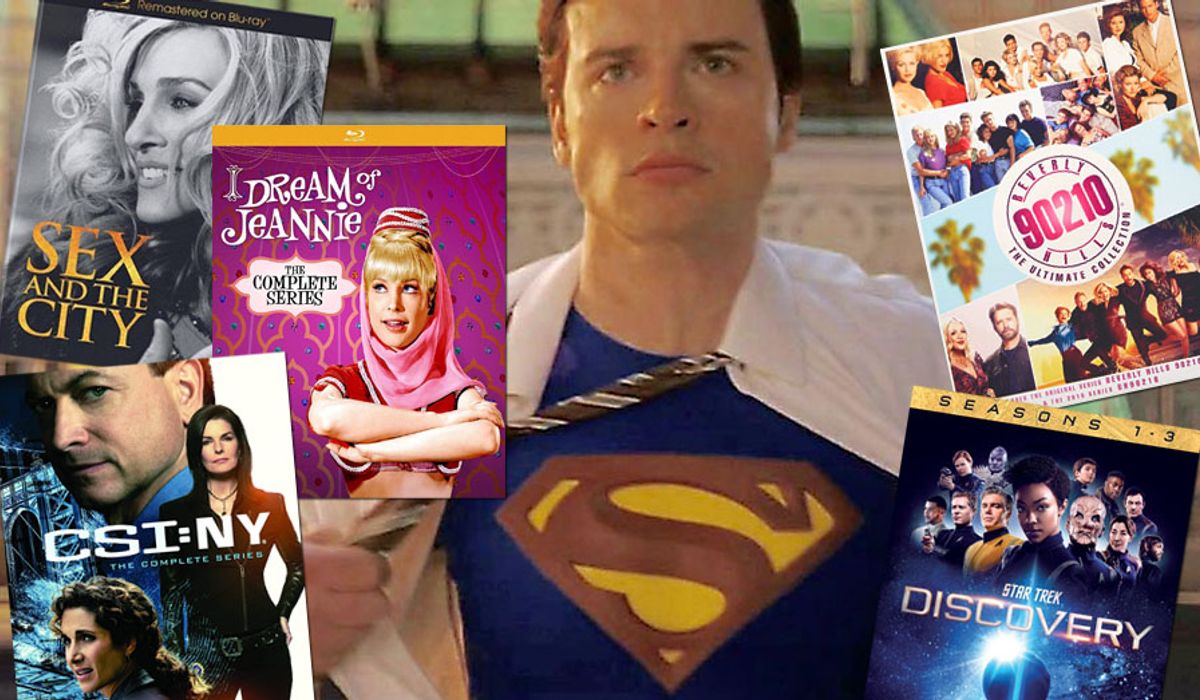 Here's a selection of top gift ideas for the DVD, Blu-ray and 4K UHD-loving, TV binge-watcher in the family.
Smallville: The Complete Series 20th Anniversary Edition (Warner Bros. Home Entertainment, not rated, 9,606 minutes, 1.78:1 aspect ratio, $179.99) — The Emmy Award-winning drama that chronicled the life of a certain refugee from the doomed planet of Krypton, raised in a small town in the United States and taught to fight for truth, justice and the American way finally arrives in the high definition format after a decade wait.
As most fans know, the WB and subsequently renamed CW cable channel chronicled Clark Kent's adventures for 10 seasons from 2001 to 2011, and lucky gift owners can now appreciate all 218 episodes on this 42-disc Blu-ray set.
Tom Welling stars as the pure of heart and often angst-ridden teen (a budding Man of Steel). Viewers are privy to his origin and early young adult years, living in a small town in Kansas and raised by Martha and Jonathan Kent (Annette O'Toole and John Schneider).
His adventures allowed him to meet many iconic characters from DC Comics' extensive Superman canon.
That includes Clark meeting his first crush Lana Lang (Kristin Kreuk), his cousin Kara Zor-El aka Supergirl (Laura Vandervoort), the villain Doomsday (Sam Witwer) and eventually Daily Planet reporter Lois Lane (Erica Durance).
Most enlightening was Clark's complicated relationship with the millionaire founder of LuthorCorp., Lionel Luthor (John Glover), and his son Lex (Michael Rosenbaum). We all know how that turned out.
The show even took fans to the beginnings of a fledgling Justice League with Clark forming an alliance with Green Arrow (Justin Hartley), Impulse (Kyle Gallner), Aquaman (Alan Ritchson), Cyborg (Lee Thompson Young), Black Canary (Alaina Huffman) and Martian Manhunter (Phil Morris).
My biggest disappointment with the series is only seeing a short scene of Mr. Welling dressed as Superman and even a bigger aggravation was Warner Bros. not allowing him to star in a Superman movie.
However, and most notable, "Smallville" set the framework for the meteoric rise of the live-action superhero television series that followed on the CW network, making it one of the more pop art influential television shows in the history of the medium.
Best extras: Warner Bros. pulls together all of the bonus content from the 2011 complete series DVD set release as well as the Season 6 to 10 Blu-ray sets, within a cubed-shaped box and clamshell case for each season, to give fans more than 28 hours of production and series extended memories.
Highlights include almost two dozen optional commentary tracks and more than a dozen featurettes such as 30 minutes on introducing the Justice Society to the Smallville universe; a 26-minute look at the Green Arrow in comics; and a 23-minute roundtable discussion with four of the actors who have portrayed Jimmy Olsen over the years.
Viewers also get a pair of bonus discs in the DVD format (really, Warner could not release those as Blu-ray?) that were included in the 2011 set and offer goodies such as a 90-minute look at the history of DC Comics, an hourlong retrospective on the series to celebrate the 100th show and a 109-minute retrospective covering the entire series.
Another big extra is getting a coveted digital code to watch the show via the Vudu streaming service.
Sex and the City: The Complete Series (Warner Bros. Home Entertainment, not rated, 2,691 minutes, 1.78:1 aspect ratio, $139.99) — HBO's groundbreaking and multiple Emmy-winning, critically acclaimed series from the late 1990s covering the professional careers, relationships and romances of four best friends living in New York City finally gets a spectacular release in an 18-disc, high definition Blu-ray set.
Based on the bestselling book by Candace Bushnell, the show offered viewers over its six-season, 94-episode run a mix of comedy and drama tied to the world of writer Carrie Bradshaw (Sarah Jessica Parker), public relations executive Samantha Jones (Kim Cattrall), lawyer Miranda Hobbes (Cynthia Nixon) and overachiever Charlotte York (Kristin Davis).
Besides an homage to the fashion and style of the Big Apple, the series also refreshingly and unapologetically dived into highly sexual and modern social issues decidedly focused on from the female perspective.
For many, it will go down as one of the greatest television shows of all time.
Purists will note that Warner Bros. has reframed the presentation from its original square 1.33:1 presentation's roots to the screen-filling 1.78:1 for modern monitors while still delivering strong visuals through the transformation.
Best extras: Viewers will first find two aptly named movies — an extended cut of "Sex and the City: The Movie" (2008) and "Sex and the City 2" (2010) — that display a nice finishing touch.
Next, the extras, culled from the DVD sets, focus on 18 optional commentary tracks with writer and director Michael Patrick King; an almost hourlong, two-part HBO farewell to the show; and a vintage 48-minute panel discussion from the U.S. Comedy Arts Festival with Mr. Patrick King interviewing Miss Parker and then other writers of the show.
I Dream of Jeannie: The Complete Series (Mill Creek Entertainment, not rated, 3,470 minutes, 1.33:1 aspect ratio, $119.99) — One of the iconic situation comedies from the earlier days of television debuts in the high definition format on a 12-disc set offering all five seasons of the show (the first in black and white) that originally appeared on NBC prime time between 1965 to 1970.
Viewers get all 139 episodes of a series that focused on the relationship between astronaut Capt. Anthony "Tony" Nelson (Larry Hagman) and a gorgeous 2,000-year-old genie (Barbara Eden) that he accidentally released from her bottle found when he was stranded on a desert island.
Smitten with her new master, the subservient genie gets him back home to Cape Kennedy, Florida, where the real shenanigans begin as they learn to live with one another and the love between the pair blossoms.
That means hiding her magical secret from others, including initially from Capt. Nelson's best friend, Col. Roger Healey (Bill Daly), and later from the bewildered psychiatrist Dr. Alfred Bellows (Hayden Rorke) and NASA superiors.
Despite the politically incorrect dose of sexism, the laughs hold up and are plentiful — complemented by a groovy theme song; an opening cartoon from the Looney Tunes' legend Friz Freleng; primitive special effects; and guest stars such as Sammy Davis Jr., Paul Lynde and Bob Denver (Gilligan — making this a great gift for the television historian in the family.
Also, Mill Creek has done a great job delivering a very digitally clean version of the classic series.
Best extras: Viewers only get the 1985 made-for-TV reunion show "I Dream of Jeannie … 15 Years Later" that has Jeannie happily married to Col. Nelson (Wayne Rogers replaced Larry Hagman, by the way) and living in suburbia with their teenage son.
Missing, and definitely necessary, is the optional commentary track with Miss Eden, Hagman and Daly recorded for the special 2008 DVD release.
And, come on Mill Creek, Miss Eden is still alive, and I bet that she would have been more than happy to reminisce about the role that made her a star.
Star Trek: The Complete Original Series 55th Anniversary Steelbook Collection (Paramount Home Entertainment, not rated, 4,062 minutes, 1.33:1 aspect ratio, $111.99) — Paramount offers gift givers yet another variation to its high definition release of the first, and many argue the best, of the Star Trek television series with a 20-disc set collected in a trio of metallic cases.
Owners get the three seasons of Gene Roddenberry's groundbreaking, 1960s sci-fi television show with all 79 episodes, pristinely cleaned up and remastered to perfection. There is even an option to watch the shows with special effects shots enhanced using current technology.
That translates into a massive voyage to appreciate the early adventures of the crew of the USS Enterprise that included legends such as Capt. James T. Kirk (William Shatner), Mr. Spock (Leonard Nimoy), Dr. Leonard "Bones" McCoy (DeForest Kelley), chief engineer Montgomery Scott (James Doohan), security officer Pavel Chekov (Walter Koenig), helmsman Hikaru Sulu (George Takei) and communications officer Lt. Nyota Uhura (Nichelle Nichols).
Best extras: All of the extras from the remastered rerelease of the show back in 2009 are included with a major highlight granting viewers access to Starfleet Command's database for the episodes "Where No Man Has Gone Before," "Run Amok" and "The Trouble with Tribbles."
This informative interactive provides a pop-up, picture-in-picture presentation with interviews and facts about the episode.
Equally important, from a historical perspective, owners get a wide range of featurettes and extras including an optional commentary track with the writer of "The Trouble with Tribbles" episode David Gerrold; the restored unaired alternate version of the pilot "Where No Man Has Gone Before"; and nine minutes from Roddenberry on the groundbreaking series.
The extras also feature versions of "The Cage" (the full-color episode with original special effects, full-color episode with remastered special effects, and an extended version with black-and-white footage).
And, just for fun, goodies include two additional episodes with Tribbles themes — "More Tribbles, More Troubles" from "Star Trek: The Animated Series," and "Trials and Tribble-ations" from "Star Trek: Deep Space Nine."
Three separate installments of "Billy Blackburn's Treasure Chest: Rare Home Movies and Special Memories," by the often-used background performer, offer a collection of rare footage from the set.
However, the real reason for the die-hards to buy the set is for the packaging.
The steel cases are yellow (Season 1), blue (Season 2) and red (Season 3), and each front and back of the cases feature color photographs of characters from the shows.
Note: For those unaware, the Star Trek franchise continues in the live-action format today via the Paramount Plus streaming service. A great gift for those immersed in the Trekkie universe and unable to afford the monthly cost is the first three seasons of "Star Trek: Discovery" (not rated, 2,052 minutes, 2.39:1 aspect, $119.11) available in a 12-disc, high definition, Blu-ray set.
Set a decade before the emergence of the crew of the USS Enterprise, the adventures dive into the complex life of the nearly all-powerful Michael Burnham, a key member and science specialist of the USS Discovery.
She often flexes her brute instinct and savvy intellectual muscles while shedding a few tears as she saves the galaxy in multiple parallel universes and time-altering dimensions.
The show shines with storylines that incorporated Capt. Christopher Pike (the original commander of the USS Enterprise), a young Spock (Miss Burnham's foster brother), and a war between the Federation and the Klingons.
Viewers also get more than eight hours of extras that offer a detailed breakdown of the production through optional commentary tracks and featurettes on costuming, special effects, alien species, lore and set design.
Beverly Hills 90210: The Ultimate Series (Paramount Home Entertainment, not rated, 13,192 minutes, 1.33:1, 1.78:1 aspect ratio, $119.99) — Fox Network's influential patriarch of prime-time, young adult soap operas gave rabid fans 10 seasons of friendship, steamy romance and angst-ridden adventures between 1990 to 2002.
All 290 episodes are now available in a massive 74-disc set packed in three clamshell cases and presented in the antiquated DVD format.
The series follows the complex lives of a group of buddies living in the upscale land of celebrity-encrusted Beverly Hills, California, as they evolve from high school to college students and eventual semi-responsible adults.
The show made teen idols and stars of Jason Priestley and Shannen Doherty as Brandon and Brenda Walsh, a pair of siblings from Minnesota attempting to acclimate to the new West Beverly High School.
They meet other rising stars including Luke Perry as Dylan McKay, Tori Spelling as Donna Martin, Jennie Garth as Kelly Taylor and Hilary Swank as Carly Reynolds.
Best extras: The set first includes the six-episode "BH90210" featuring seven actors from the original show (including Mr. Priestly, Miss Doherty and Miss Spelling) existing in a fictionalized reality-type series as they work on rebooting the franchise.
Next, viewers get a smattering of extras from the previously released DVD sets highlighted by a trio of optional commentary tracks (none with the stars) and 43 minutes on filming the final episode.
A bonus disc is also included that features a 40-minute, 2003 reunion with the cast and a vintage behind-the-scenes featurette with the young actors from 1993.
CSI: NY, the Complete Series (Paramount Home Entertainment, not rated, 8,478 minutes, 1.78:1 aspect ratio, $118.99) — Yet another spinoff of the successful "CSI: Crime Scene Investigation" franchise gave viewers a chance to watch a team of forensic scientists and police officers in action in the Big Apple for nine seasons on the CBS network between 2004 and 2013.
A spinoff from the successful "CSI: Miami" follows Detective Mac Taylor (Gary Sinise), a former Marine haunted after the loss of his wife in the 9/11 World Trade Towers attack, and his crime-solving investigators. They include assistants Stella Bonasera (Melina Kanakaredes) and Jo Danville (Sela Ward); Detectives Danny Messer (Carmine Giovinazzo), Don Flack (Eddie Cahill), Lindsay Monroe (Anna Belknap) and Aiden Bern (Vanessa Ferlito); and medical examiners Dr. Sheldon Hawkes (Hill Harper) and Dr. Sid Hammerback (Robert Joy).
They delve into cases offering the chance for an irresistible mix of murderer profiling, autopsy imagery, use of tech equipment and subplots tied to their soap-operatic lives.
Of course, guest stars abound during the series and eagle-eyed viewers will appreciate appearances by Ed Asner ("The Mary Tyler Moore Show") in his Emmy-winning episode from the fifth season, "Yahrzeit"; Peter Fonda ("Easy Rider"); Edward Furlong ("Terminator"); Michael Clarke Duncan ("The Green Mile"); Kid Rock; Marlee Matlin ("Children of a Lesser God"); and Craig T. Nelson ("Coach").
This boxed set contains all of the 197 episodes on 55 discs secured in three clamshell cases.
Besides delivering a love letter to the diverse locations and architectural wonders of New York City, the series theme song allows owners to listen to snippets of The Who's anthem "Baba O'Riley" until their ears bleed.
Best extras: Offering more than nine hours of extras scattered across the discs, the set includes: 18 optional commentary tracks with select cast and crew; deleted scenes; and over four dozen featurettes ranging from 10 minutes with horror director Joe Dante (he directed the episode "Boo"), a 15-minute early look at the characters and even a trio of CSI crossover episodes.
Of course, the only caveat is watching the slick show in the antiqued DVD format.
Note: Budding crime-scene investigators will also appreciate owning the seven-season run of NCIS: New Orleans — The Complete Series (Paramount Home Entertainment, not rated, 6,528 minutes, 1.78:1 aspect ratio, $118.99) offering 155 episodes spread out over 39 DVDs. The show starred Scott Bakula as Special Agent Dwayne "King" Cassius Pride and lots of dead bodies in the Big Easy.


Gift Guide 2021: Best of DVD and Blu-ray television Source link Gift Guide 2021: Best of DVD and Blu-ray television