New York
CBS New York gets an exclusive look at how the NYPD patrols the US Open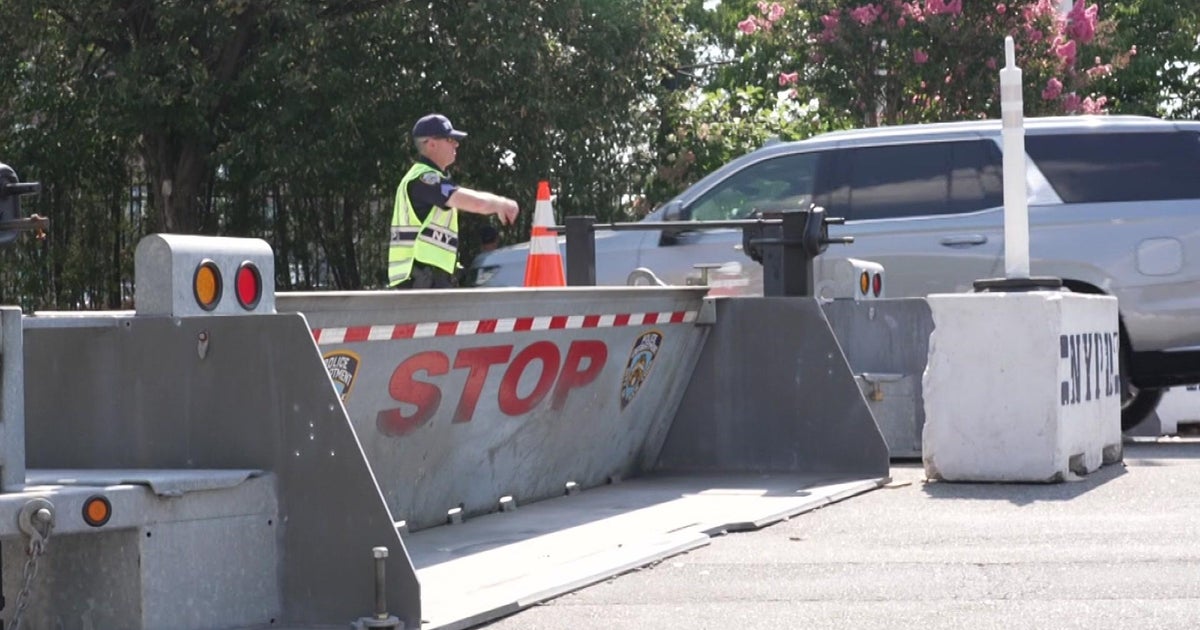 NEW YORK — The US Open is one of the biggest security undertakings in New York City and around the country, and as we head to the Finals this weekend, CBS New York's Ali Bauman got an exclusive look at how the NYPD patrols this massive event.
In the sky, it's easy to see all 46 acres of the Billie Jean King Tennis Center in Queens, but on the ground, 80,000 people walk through the courts each day during the US Open.
"This is an international event. This is New York City. This is one of the biggest targets there is. This is the target," said Inspector Bill Gardner, with the NYPD Counterterrorism Division.
The NYPD started preparing for this year's tournament as soon as last year's was over.
"Lots of NYPD, lots of other agencies working hand in hand to make sure that it goes off without a hitch," said Asst. Chief Christine Bastedenbeck, commanding officer of NYPD Queens North.
If you go to a match, you're likely passing through several security checks without even knowing it.
Every car, truck and bus that drives in rolls over a camera hidden in what looks like a regular speed bump. Counterterrorism officers scan the video in real time for weapons strapped to the undercarriage.
"Once they come past the barrier, they'll come past here," Gardner said.
Each entrance is guarded by heavy weapons teams, as well as K-9s who are constantly sniffing for explosives.
"Their nose is so much more powerful than a human's nose … If you look at him now, he's constantly putting his nose up in the air and he's absorbing everything," said Officer Michelle Capizzuto, with the NYPD Counterterrorism K-9 Unit.
Behind the scenes, the NYPD Bomb Squad is perched in an undisclosed location, checking bags and deliveries.
"It could be anybody bringing in their bag or leaving a bag behind, any sort of package that gets delivered to the US Open," said Det. Andrew Eaton, an NYPD bomb technician.
They haven't had to use it yet here, but just in case, there's a bomb-diffusing robot on hand.  
"This is the work horse of the Bomb Squad, besides us, but if we need to go remote, we'll use the robot," Eaton said.  
The squad also has EOD 9 bomb suits that weigh about 95 pounds with pants, jacket and helmet.
Of course, there's only so much you can see on foot, so Bauman went up with an NYPD helicopter for a routine scan in the sky.
The same aviation pilots patrol the area year-round, so they look for anything up there that seems out of the ordinary. Their perspective is paramount for coordination on the ground.
"When you know what's happening and you know what's normal, the slightest thing that's a change, we're able to know we gotta follow up on that," Bastedenbeck said.
So far, this year's tournament has been quiet — from a security standpoint at least — but police say they'll be vigilant until the final match.
"That's why we ask people, if you see something, say something. It's everybody's job to prevent something from happening," Gardner said.
https://www.cbsnews.com/newyork/news/us-open-nypd-security/ CBS New York gets an exclusive look at how the NYPD patrols the US Open