New York
Asylum seekers head to Ellis Island to begin their path to citizenship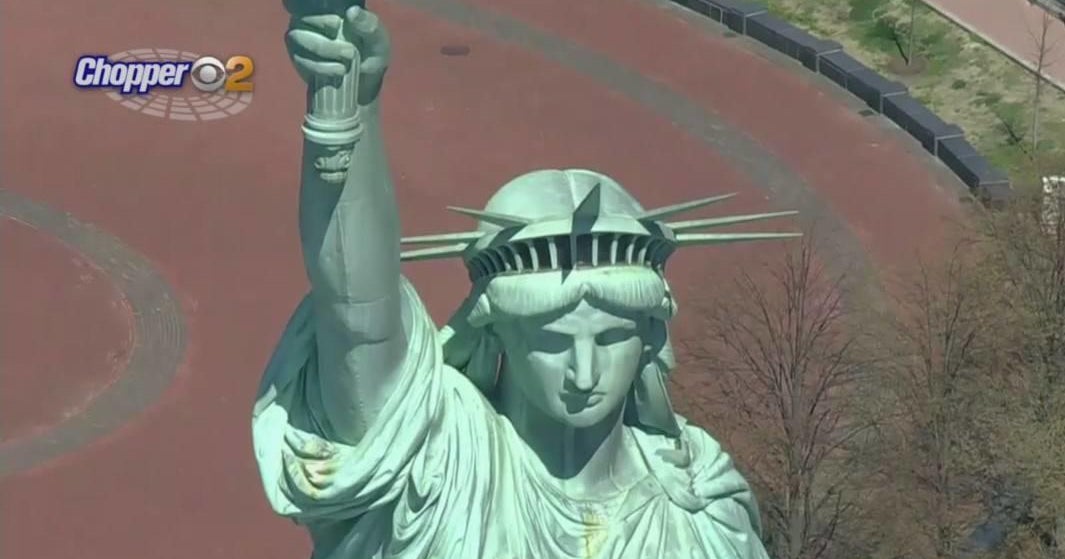 NEW YORK — As the city continues to struggle with the asylum seeker crisis, CBS New York got an inside look at how dozens are working hard to get out of shelters and on a path towards employment and citizenship.
The Statue of Liberty is a beacon of hope and a symbol of freedom.
"It means I'll finally be able to be free," Pedro Perez said.
READ MORE: Attorney for Gov. Kathy Hochul sends scathing letter to judge about NYC's handling of asylum seeker crisis
Perez, 23, was one of dozens of asylum seekers who took pictures of Lady Liberty on Wednesday morning while on a ferry from Manhattan to Ellis Island, which was once an immigration hub for millions entering the United States.
"I came for a safe life," Perez said.
He arrived from Venezuela last year and showed a picture of him on his first day in New York City.
"I wish I was with my family over here," Perez said.
READ MORE: Although immigration at border is decreasing, number of asylum seekers coming to NYC is rising, Adams administration says
The Shahnoory sisters left Afghanistan four-months ago. They took their first selfie in the city in May.
"Tourist groups came and took control of our government … precluded women from everything … school. That's why we are here today," Zahra Shahnoory said. "The girls cannot go out of their homes … lonely."
Project Rousseau has been helping the youth and families on their path to citizenship even before the waves of asylum seekers started arriving on buses from the Southern border last summer.
"But the moment those buses started coming from the Southern border we said we have to get involved," said Andrew Heinrich, founder of Project Rousseau.
READ MORE: Staten Island borough president blasts idea of turning Fort Wadsworth into asylum seeker shelter
On Wednesday, 75 families he vetted and is currently working with completed, signed and submitted their asylum applications at the Ellis Island National Museum of Immigration, during a graduation-style ceremony.
"To have this opportunity, really grateful for that," Sarai Perez said.
It all happened as New York City continues to struggle with the asylum seeker crisis. More than 57,000 are in more than 200 emergency shelters across the five boroughs, including a relief center that was just opened at the Creedmoor Psychiatric Center in Queens.
"We have to start somewhere. It's not the goal to remain on those places. My goal is to be independent … try to work," Pedro Perez said.
READ MORE: White House officials meet with Mayor Eric Adams to collaborate on asylum seeker crisis response
Most of the families on Ellis Island said they are still in shelters. Some are even separated from their loved ones because of space, but are eager to move out and work.
"We have the chance to improve. We have the chance to educate and we have the chance to use our liberty, and I'm really glad I can breathe the freedom here near the Statue of Liberty," Aqdas Shahnoory said.
The next step for these families is an interview with an immigration officer, which could take years to get. However, the legal team at Project Rousseau says in five months they can apply for work authorization and work while they wait.
https://www.cbsnews.com/newyork/news/asylum-seekers-head-to-ellis-island-to-begin-their-path-to-citizenship/ Asylum seekers head to Ellis Island to begin their path to citizenship