New York
An elderly Brooklyn woman was about to be killed by a drifting bullet while on a bus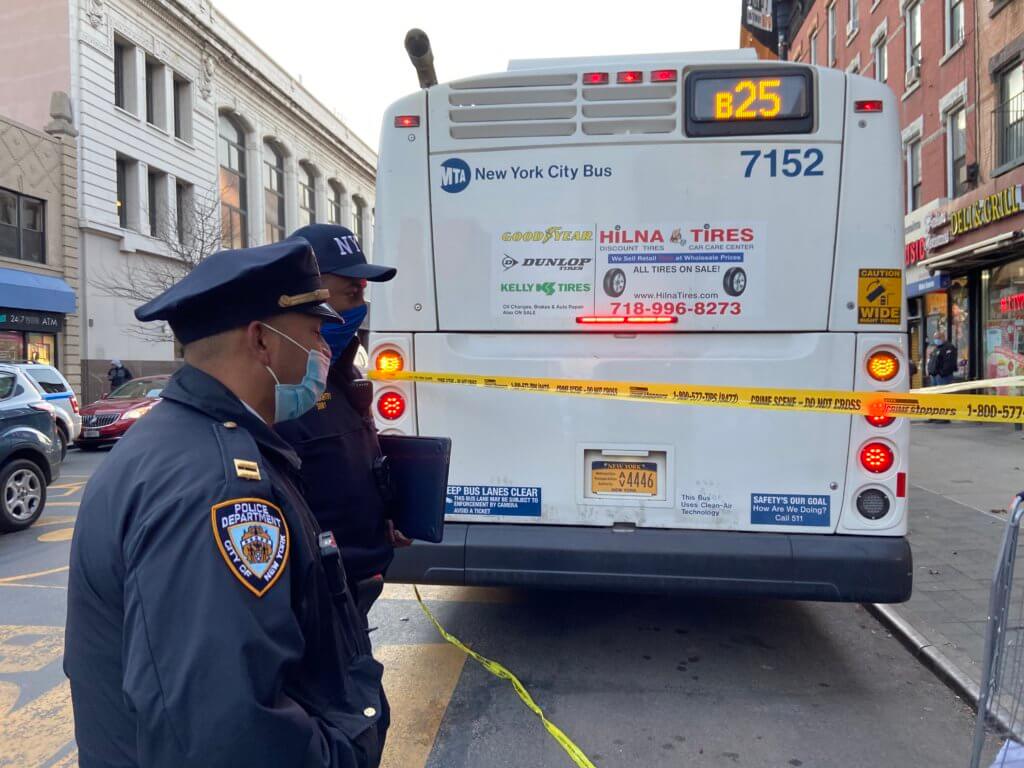 Police are investigating the shooting of a 7-0 year old woman sitting on an MTA bus on Fulton Street this afternoon. (Photo by Lloyd Mitchell)
A 70-year-old woman almost died when a man fired a stray bullet on a busy street in Brooklyn on Tuesday afternoon, hitting her cheek while on an MTA bus, police officials said.
Detective Rodney Harrison said an unnamed woman was shot after 2:00 pm behind a B-25 bus heading west along Fulton Street in Bedford-Stuyvesant, Brooklyn.
The woman was beaten while some passengers were covering. After noticing the turmoil in the rear, the driver stopped the bus and stopped right above the Black Lives Matter mural, right next to Tompkins Avenue.
The woman was taken to Kings County Hospital and Harrison said she was in a stable condition.
Harrison said the gunman was wearing a red or orange bubble jacket with a gray bottom and blue jeans and sneakers, "he was firing a few rounds from Tompkins and Fulton Street." Harrison didn't reveal any further details or who the perpetrator was shooting at the time of the shooting.
Police officials said they would soon release surveillance videos and photos of the perpetrators to the public.
The driver was said to have heard the gunshot and noticed that the passenger had been beaten.
MTA officials called the unidentified driver "very brave."
If you have information about this shooting, please call the NYPD Crime Stopper Hotline (800-577-TIPS (8477)) or 888-57-PISTA (74782) in Spanish. You can also submit tips online at nypdcrimestoppers.com or Twitter. @NYPDTips.. All calls and messages are kept secret.


An elderly Brooklyn woman was about to be killed by a drifting bullet while on a bus
Source link An elderly Brooklyn woman was about to be killed by a drifting bullet while on a bus